Are you getting frustrated with a CMS that's impossibly hard to use while only letting you make sub-par pages? Are you trying to rank higher on search engines and drive more traffic, but you don't have the SEO tools you need?
Enter HubSpot CMS!

With HubSpot, you can give your customers a totally personalized buying experience by customising the buying process, streamlining your marketing, and aligning your sales. But what about driving organic traffic?

Well is also comes with the Search Engine Optimisation tools that you need to take your website to the next level. You won't need to rely on other platforms to achieve your SEO goals. It's got everything you need to get more people to your site and make your mark online.
So, while your competitors are struggling to get noticed, you'll be at the top of Google's search results in no time!
But why is Hubspot CMS such a big deal for SEO? Well, first we need to take it back to basics and dive into what the CMS actually does.
What is HubSpot CMS?
HubSpot CMS is a Content Management System designed with the end user in mind, allowing you to build and manage their website without having to deal with the hassle of coding everything from scratch. With its user-friendly interface, you can easily create, manage, change, or publish content without any technical knowledge.
Gone are the days of spending hours learning to code your website, only to find bugs and errors that prevent you from going live. HubSpot CMS gives you the tools you need to customize your website's design and functionality with ease. You can choose from a wide range of templates and extensions, or create your own custom design to make your website truly unique.
Another great thing about HubSpot CMS is its ability to allow multiple users to access and use the platform. This means that your entire team can collaborate on the website and make changes, updates, or additions as needed. No more having to rely on a single developer!
Why do You Need to Keep SEO in Mind When Building Your Website?
SEO is a must-have for any company looking to succeed in the digital marketing game. It helps your site get seen by search engines to boost your chances of reaching potential customers.

But, that's not all! By optimizing their website for search engines, businesses can:
Increase Ranking and Visibility
SEO is all about making sure your website shows up at the top of search engine results when people search for keywords related to your business. The higher you rank, the more likely people are to find and click on your site.

This is a huge deal because most people don't bother scrolling past the first page of search results. When was the last time you found yourself on page 2 of google? If you want your website to get seen, you gotta work on your SEO efforts to get a higher ranking and increase visibility.

Having a high-ranking website is like having a billboard on a busy street. The more people see it, the more chances you have of getting new customers. But the best part is you don't have to pay for each person who sees it as you do with traditional advertising. If your business website is more visible, you'll attract more organic traffic and have a high chance of converting prospects into customers.
Build a Better User Experience
The benefits of SEO don't stop at increasing your ranking, visibility and traffic. When it comes to websites, having a good user experience and optimising for search engines go hand in hand.
Google is all about giving its users the best possible search results. So if your website is well-designed, quick, and user-friendly, Google will give it a higher ranking in search results. But if your site is slow and challenging to navigate, Google might give it a lower ranking.
In short, a lot of the tactics you use to optimise your site for search engines will also optimise your user experience. By making your website easy to use, reducing loading times and optimising for all devices, you're not only making it more likely to show up higher in Google's search results but also more enjoyable for your customers.
Another way SEO can give your business a boost is by making it an authority in your industry. This can be a big challenge for many organizations, but it's crucial for success.

Authority is a crucial aspect of SEO because it directly affects your website's visibility and credibility. Search engines like Google use authority as a ranking factor when determining which pages should appear at the top of the search results. The more authoritative a website is, the higher it will rank in search results, making it more likely for people to find and visit it.
By building authority, internet users are also more likely to trust you and do business with you. And that's what we all want, right? To be seen as trustworthy and the go-to in your industry.
By building an authoritative website, you can establish yourself as a leader in your industry, increase your online visibility, and attract more qualified leads.
How the HubSpot CMS Helps with Search Engine Optimisation
Using HubSpot CMS can help with search engine optimization in a whole range of different ways, but they can be boiled down into five primary functions: Keyword optimization, content creation, on-page optimization, site performance, and link building. These all aim to improve your website's visibility and ranking in search engines and ensure it provides the best possible user experience for your visitors.
Let's take a deeper look into each function:
1. Keyword Optimization
One of the most important aspects of any SEO strategy is choosing the right keywords to target. This is where HubSpot's keyword research tool comes in handy. It helps you find keywords that are relevant to your business and your target audience and then optimizes your website content around those keywords. This makes it easier for search engines to understand what your website is about and can improve your search engine ranking.
2. Content Creation
HubSpot makes it easy to create high-quality, SEO-friendly content that engages and informs your audience. Whether you're writing blog posts, creating product descriptions, or developing pages on your website, HubSpot provides the tools you need to create content that is optimized for search engines. It also offers a blog tool that helps you manage, organize, and optimize your blog content for maximum impact.
3. On-page Optimization:
In order to rank well in search engines, your website needs to be optimized for both search engines and users. This is where HubSpot's on-page optimization tools come in. These tools help you optimize your website's content and structure for maximum visibility and engagement. You can use them to write compelling meta descriptions, create header tags that guide users to your content, and optimize your URL structure for easy navigation.

4. Site Performance:
Another critical factor in SEO is site performance. How fast your website loads and how well it performs can have a significant impact on your search engine ranking. HubSpot provides analytics and monitoring tools that help you understand how your website is performing and identify areas for improvement. These tools also help you monitor and improve your website's load time, which is essential for SEO.
5. Link Building
Finally, HubSpot helps you build backlinks to your website, which is a critical factor in search engine ranking. Backlinks from other reputable websites indicate to search engines that your website is valuable and trustworthy, which can help increase your website's authority and improve your search engine ranking. With HubSpot, you can quickly build high-quality backlinks that can help you reach your SEO goals.




The Other Benefits of Using the HubSpot CMS
Gone are the days when businesses had to rely solely on web developers to design and maintain their online presence. With HubSpot CMS, companies can now easily handle their website updates, publish new content, and add new features, all on their own.
And that's not all, HubSpot CMS offers even more benefits beyond just helping with SEO including:
Ease of Use for the Whole Team
As we have discussed HubSpot CMS takes the hassle out of managing your website and makes it simple for you to do it yourself. No more spending a lot of money or time on web developers to handle your content updates and new functionalities.

With HubSpot CMS, you can customize your website's theme with ease and even ensure that it looks amazing on any device because the software is mobile-responsive. Say goodbye to the headaches of managing your website and hello to a streamlined and affordable process.
Additionally, it allows for seamless collaboration among teams, with features such as permission-based access for different team members, content approval workflows, and shared calendars for content planning and publishing. These tools help ensure a smooth and organized workflow, allowing marketing teams to work together effectively and efficiently to achieve their goals.
Secure and Reliable Sites
HubSpot's CMS is not just about making website management easy and efficient, but also providing peace of mind when it comes to security. With its built-in security features, you can rest assured that your website and its valuable data are protected from any malicious attacks.
Security issues on a website can have a significant impact on the trust that customers have in the business. When a website experiences a security breach or is hacked, it can result in sensitive customer information being stolen or compromised. This can cause customers to lose confidence in the business's ability to protect their personal information, leading to decreased trust and potentially, loss of business.
In today's digital age, customers expect businesses to take their online security seriously, and a security breach can damage a company's reputation, making it difficult to attract and retain customers in the future. As a result, it is important for businesses to take proactive measures to protect their website from security threats and maintain customer trust.
With HubSpot CMS, this will be a thing of the past, as they have a dedicated security team. It also has SSL, Web Application Firewall, custom CDN, and other features that ensure your site is secure.
Captures Site Visitor Data
HubSpot CMS captures important details of site visitors through the use of CTAs, forms, tracking and reporting tools. These tools allow you to monitor visitor behaviour on your website, including the pages or blog posts they visit, the length of their visit, and the actions they take.

This information is then used to generate detailed reports that give you insight into your visitors' interests, needs, and preferences. This information can be used to personalize the user experience, improve the website's design, and enhance the overall performance of your website. By capturing this information, HubSpot CMS enables businesses to better understand their audience and improve their digital marketing efforts.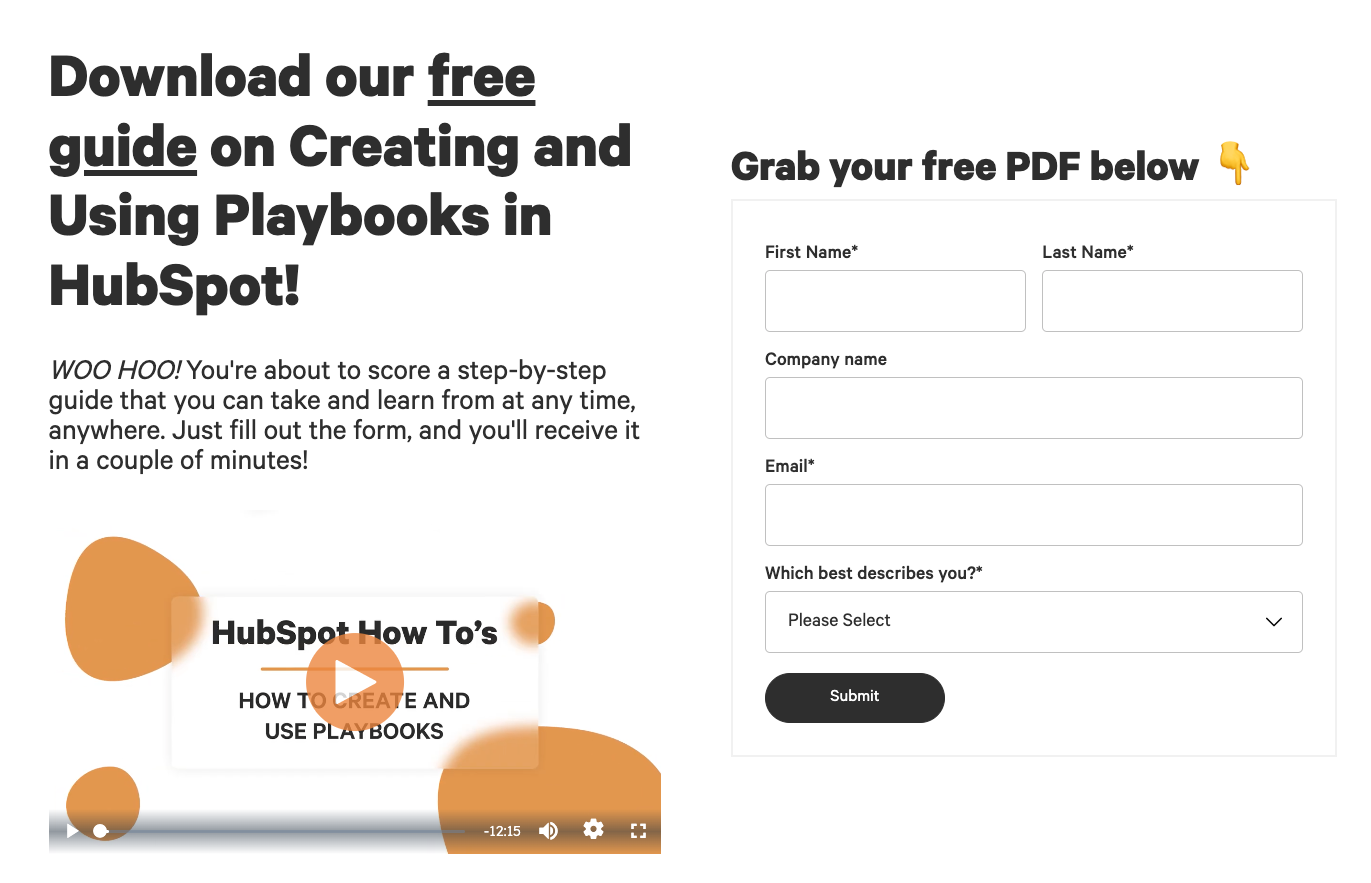 Create a Better Online Experience
HubSpot CMS is designed to provide an optimal digital experience for users visiting your website. One of the ways it achieves this is through personalization. HubSpot's CMS allows you to tailor the content, messaging, and calls-to-action to each individual visitor based on their behaviours and preferences. Using dynamic content and a responsive design creates a personalized customer experience that engages the user and increases the chances of them taking action.

Additionally, HubSpot's CMS is optimized for mobile responsiveness, ensuring that your website looks great and functions well on any device. This is crucial as more and more users are accessing websites through their smartphones and tablet devices. It's also optimized for fast load times, which is important for keeping visitors on your site and providing a positive experience.

Overall, HubSpot's CMS provides a range of features and tools that help to create a better online experience for your visitors.
The Bottom Line
Grow your brand with the benefits of HubSpot CMS if you want to grow your brand and become a market leader. HubSpot ensures your website visitors' vital information remains secure as they handle your site's security. Additionally, it's easy to use and offers the best user experience, enabling your brand to grow.
The amazing thing about HubSpot CMS is that it can optimise your content and ensure it's the correct length for the target keyword. It also provides you with internal links, a call to action, and meta descriptions, which good SEO content should contain.