One of the biggest questions any enterprise comes up against at their inception is whether they want HubSpot ... or WordPress. And why? Well, the backstage software that you use to create your website actually has everything to do with the main performance. Every content management system (CMS) comes equipped with its own talents and capabilities - as well as its own design - which influences your entire production.
To put it simply, a CMS is a software suite that allows you to build, manage and update your website to essentially build the website of your dreams - but each one has its own pro's and con's. Picking a CMS that doesn't align with your website goals can potentially stack on a lot of extra work that you could have achieved with just a few clicks, had you paid attention to articles like this *wink wink*.
No matter which CMS you choose, its fundamental goal is to reduce design and maintenance overheads and give you the freedom to produce targeted, optimised content with an intuitive and sexy lookin' site.



So, what's the difference?
Well, let's start with ol' WordPress, which powers around 30% of all websites on the net. This amounts to more than 75 million websites, giving it absolutely enormous market share, and ultimate bragging rights!
Over 15 years ago, it was birthed with the intention of being a blogging platform, before later transforming into an open-source CMS. While users can start creating content instantly one they've signed up, it does require quite a few integrations and additional software programs to build out a full-blown website.
The Hubspot CMS on the other hand, combines all of WordPress's features, with a complete CRM system - which is absolutely essential for business websites, as when combined, you can convert visitors into leads and then automatically store them in the CRM. While we might be a little bias, HubSpot does stand as the ultimate, fully-integrated marketing solution, heeding entirely to the inbound philosophy.
So that's the run-down, so now let's deep-dive into how both of these stack up across eight key areas so you can have peace of mind you're making the right decision!
1. HubSpot vs. Wordpress: Blogging
Arguably the most obvious feature of a CMS (maybe for me, anyway!), is finding a software that makes blogging as easy as possible - because a blog interface can either streamline your creativity, or slow you down with poor usability and complex tools.
Arguably the most obvious feature of a CMS (maybe for me, anyway!), is finding a software that is user friendly and makes writing a blog post as easy as possible - because the user experience of a blog interface can either streamline your creativity, or slow you down with poor usability and complex tools.


HubSpot
HubSpot's interface for blogging is super clean and simple enough that anyone can use it. It allows you to craft effective content marketing strategies where every piece of content plays a part, through its plethora of integrated features giving you the opportunity to design and optimise your blog as you write it. So while you can enjoy the basic necessities of a blogging platform coupled with social media posting capabilities and scheduling options, there are plenty more features to get excited about, including:
Mobile optimisation
SEO tools
Calendars
Analytics
AMP Support
CTA Creator
Content Collaboration
WordPress
At its core, WordPress was founded to make the blogging process super lightweight, fast and easy - it is by far the strongest element of the platform. However, anything else you wish to do beyond plain text blogs require separate software. For example, if you want to ensure that your article is optimised for SEO, you'd have to install an SEO plugin.
2. HubSpot vs. Wordpress: Website Management
Your website works around the clock to deliver the best experience possible - it's essentially your best salesperson. So hook it up to the right CMS and let it do all the hard work for you!

HubSpot
HubSpot is famous for simplicity, and nowhere more so than its website management tool. Its drag and drop interface can be extended to create custom experiences on individual pages, while also allowing you to choose from thousands of templates within the HubSpot Marketplace or even create your own pages without any tech help! Along with this, with the recent instatement of 2 new CMS Hubs, the Professional CMS and the Enterprise CMS, work ever-so seamlessly with Marketing, Sales and Service Hub, as well as the Hubspot CRM, allowing to personalise every experience your customers have with your site!

WordPress
To the untrained eye, you can spot a Wordpress site from a mile away. Sites using this CMS tend to look very similar, as it usually takes far more legwork and hustlin' to build an entirely unique website that actually stands out. WordPress grants you access to basic tools for keeping your content organised and accessible. As well as this, the process for updating pages is relatively simple, although if you need options for the design of individual pages, you'll need to enlist the help of specialised site building software.



3. HubSpot vs. Wordpress: Data Analytics
A CMS with limited analytics is like computer without a screen - "what am I doing?!". You need to be totally across how your content is performing and what parts of your strategy you need to adjust, so it's super imperative you find a CMS which provides you enough data to empower your overall strategy and reach your goals!

HubSpot
HubSpot analytics is essentially a digital microscope - allowing you to get hella specific by centralising, visualising, and reporting data. As it is so comprehensive and organised, all of the important data is in one place, doubly working with your CRM to give you a total view of your sales funnel, as well as sessions and conversions. As a bonus, you also have access to search analytics, competitor tracking and contact timelines - could it get any better!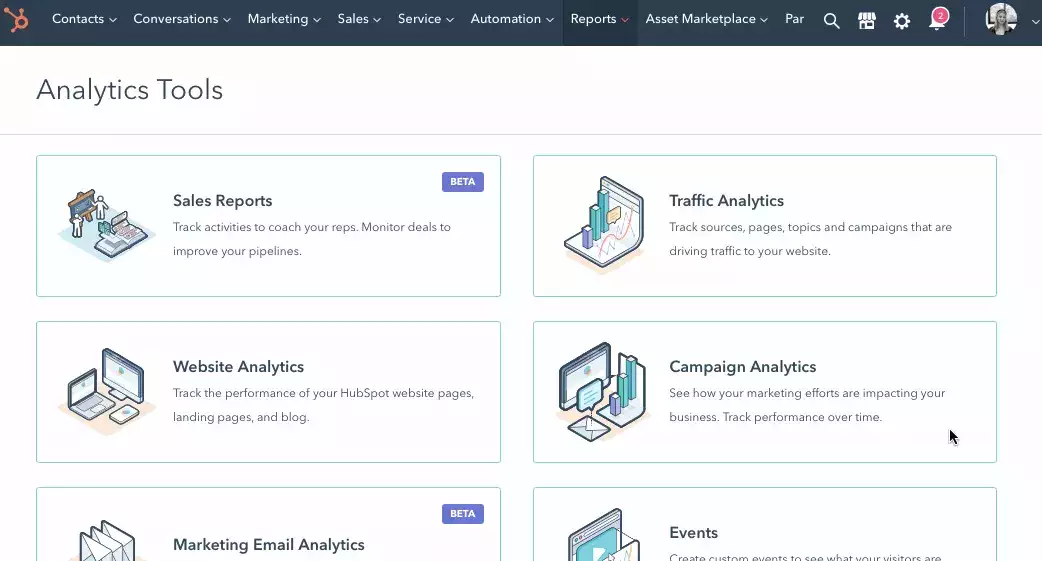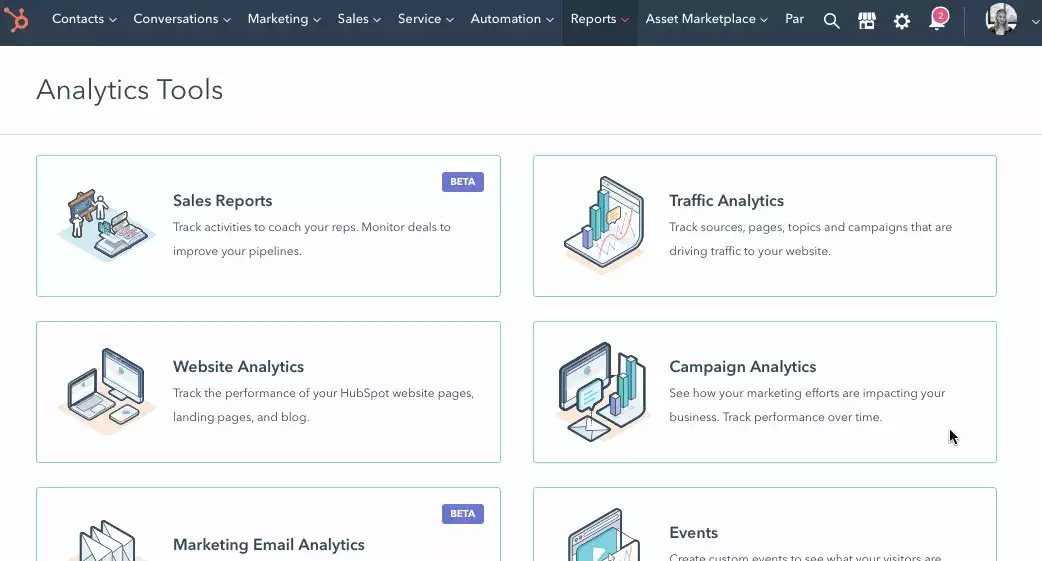 WordPress
Measuring content performance with WordPress is a little more complex, as while you do get access to the base metrics , you have to put in a bit more effort to get a view of your performance that is in any way comparable to what HubSpot provides. As with many of the portals on Wordpress, you will need to introduce third-party software to connect your site with Google Analytics. As well as this, depending on your goals and needs, you may need to use paid analytics tools, which ultimately brings a little more complexity to your site and reduces your effectiveness and overall performance in the long-run.


4. HubSpot vs. Wordpress: SEO
Your website without SEO, is like setting up a brand new store in the heart of the central shopping district and turning off all of the lights - completely bonkers! You need your audience to be able to find you when they're looking for solutions to their problems. Despite its importance however, there actually aren't that many CMS options which provide SEO options, so be sure to pick one that'll help you help others!

HubSpot
Just as it is aligned with Inbound, the HubSpot CMS is built for next level SEO optimisation. These tools help you evaluate and fine-tune each page as you write it, ever helpful in its capacity to demonstrate best practices every step of the way. Some other SEO features HubSpot boasts include:
Inbound link tracking
Google Search Console integration
Competitor analysis
Page performance tracking


WordPress
When you take the initial step in signing up for WordPress, you don't receive any real SEO functionality, however, you can access both free and paid SEO plugins. In fact, nearly all bloggers and marketers using WordPress rely on a bunch of third party SEO tools. But with more plugins inevitably comes more confusion and headache. So be warned!

5. HubSpot vs. Wordpress: Social Media
In our evermore connected digital world, social media and content go hand-in-hand - or at least, they sure as hell should! Without social media integration on your CMS, you can expect to be spending a lot more time and energy distributing your content and connecting with your people.

HubSpot
HubSpot recognises your need to get your content in the hands of your customers - so in response, has made the management of such storytelling as seamless as possible, giving you the opportunity to keep your eye on social conversation and overall trends in your social performance.
WordPress
Recognising the growing nature of social media, WordPress has started to shake up its design a bit to make social sharing easier. However, you still need third party tools to maximise sharing, and you won't be able to monitor your performance unfortunately, meaning you'll have to get your detective on and analyse results or oversee some extra software.


6. HubSpot vs. Wordpress: Landing Pages
Key to lead generation and getting your offers out into the world, you need landing pages! So a landing page creation tool would be pretty essential, right?

HubSpot
While both HubSpot and WordPress recognise the different functions of 'pages' and posts', only HubSpot provides a full set of tools for designing a landing page that gets visitors to convert.
HubSpot's design templates are famously extremely responsive and easily customisable with a drag and drop UI. HubSpot also gives you the option to build and create forms to capture leads, as well as an optimiser tool to boost SEO value and the chance to A/B test your landing pages.

WordPress
WordPress is equipped with a wide range of custom themes and software plugins to help you develop professional landing pages. However, most of the truly versatile landing page plugins require spenny subscriptions which, in most cases, don't work well together.


7. HubSpot vs. Wordpress: Email Marketing
Email automation is the O.G communication method that works to build a business's online presence, allowing you to streamline your processes for vital components of your marketing strategy, like lead nurturing or newsletters. Without the right automation tools set in stone, your team will likely fill their waking hours writing emails, scoring leads and keeping contact properties up to date in the CRM.

HubSpot
Marketing automation is to HubSpot what cheese is to crackers - they just go together! HubSpot serves up several awesome solutions to simplify the most tedious of tasks. With regard to email, you can run A/B tests and add personalisation to customise and optimise your messaging, as well as automate the sending process!
One of the best marketing automation features in the CMS is the workflow *bless*. Thanks to HubSpot, you can create targeted workflows using list segmentation to personalise your emails for each and every contact in your database.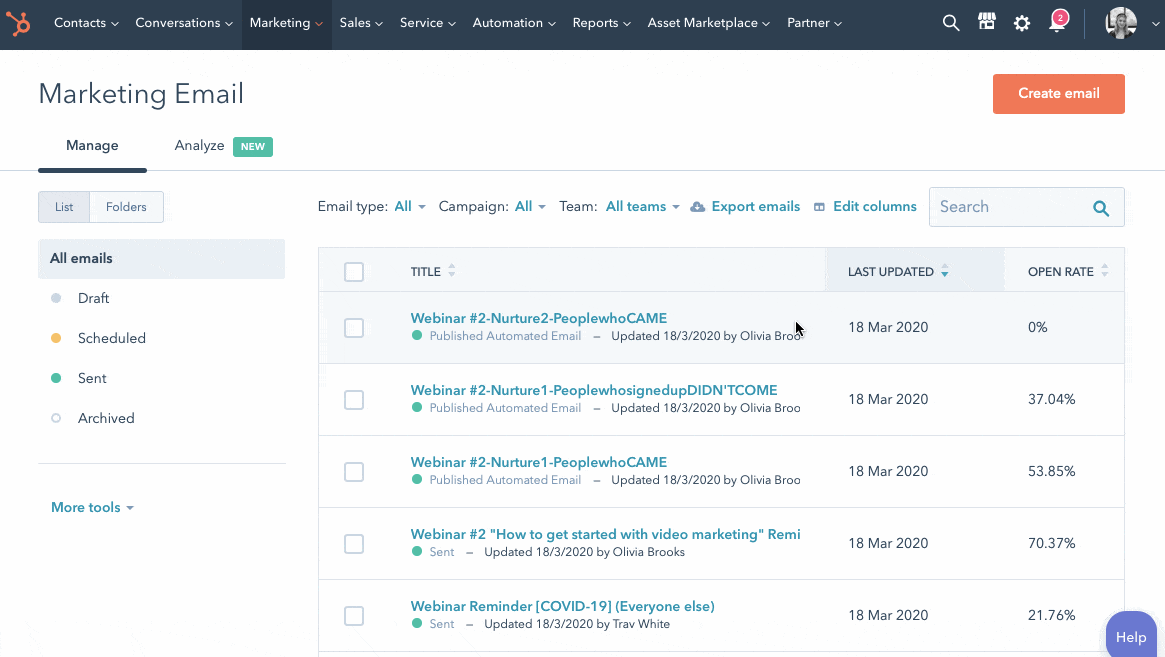 WordPress
We can cut WordPress a bit of slack here, as most CMS options are without email marketing / email automation capabilities. So when relationship building with leads, you have to rely on alternative tools. In the WordPress world, MailChimp integrations are popular, but once again it means relying on a third party, leading to more headaches and potential integration slip-ups. 8. HubSpot vs. Wordpress: CMS Essentials
CMS option aside, with whichever you choose, you need to have the basics of speed, stability and uptime, on tap!


HubSpot
HubSpot's ever-evolving nature means that the code is always up-to-date. You can sleep peacefully knowing that your website security is covered, thanks to some tip-top features including:
Firewall / VPN
Secure Sockets layer (SSL) Protection
Intrusion Detection System (IDS)
Distributed Denial of Service (DDoS) Mitigation

WordPress
While we don't mean to bash Wordpress as a CMS, we have to let you know that it is infamous for its security holes and flaws, even as the open-source community keeps the core software fairly stable. However, all of those extra plugins and widgets means you'll often end up with tonnes of vulnerabilities that are difficult to keep tabs on!
So what's the verdict? We say ... HubSpot wins ten-fold. For bloggers or website enthusiasts who are just looking for a good time, go for your life with Wordpress - it does what it's intended to do! But if you're a business with a digital marketing team, HubSpot needs to be your number one choice as the full package, because unlike WordPress and other CMS options, the HubSpot CMS was built from the ground up with marketing in mind. Resultantly offering seamless integration with all aspects of your marketing strategy, from content publishing, to website page development, to email sending and even contact management and sales processes. What's easier than that?