What if I told you that you could sit back, somebody would come in, do all your social media marketing for you and you'd get all the praise and glory? You'd throw your hand up quicker than a teachers pet asking for extra credits.
What is user-generated content or UGC? It's exactly that, it's somebody else (your customers) doing your social media marketing for you. How can it be you ask? Well to be honest, it's not just some plug and play thing you can just roll out. For all the success stories we hear about and the examples below, I'm sure there are thousands of unsuccessful campaigns that deserve an "At Least You Tried" award.
UGC is content created by your customers and advocates for your brand. People love your brand so much, they snap a pic of your product and post it on their social media accounts, they leave a positive review on your product for all to see or they participate in a public competition involving your brand or product.



Like I said, it's not something you can force. People need to genuinely like your brand or product before they are willing to post it on their social media or leave a glowing review. Using a branded hashtag, brands can see and repost content posted by public accounts.
Imagine all the free-time you'll have if your customers do part of your marketing for you, but there's more to it than that. A study completed by Twitter saw an 88 percent increase in purchase intent when a brand is promoted by an influencer. 100 percent of people said they'd believe a recommendation from a friend, this highlights the need for positive experiences with customers. We look to our friends for reviews and advice before making purchases more than ever before. Another crazy stat is that 25 percent of search results for the world's 20 largest brands are links to user-generated content, that's a hell of a lotta content.
Not only is someone doing a good chunk of the work for you but people are more willing to purchase your product if a friend has posted about it. You beauty!
UGC has become a must-have element in all marketing and content marketing strategies in 2019. Keep reading as we share some of the most epic UGC campaigns from around the world or to read out complete guide to social media marketing, click the link below.


1. Coca-Cola's #ShareACokeWith
Remember back to 2012 when you dug through every single can of Coke in a servo fridge just to find your name or a friends? Well, I personally didn't because "Geordie" isn't all that common but I did see a lot of people digging for theirs and all across social media.
Coca-Cola wanted to lose the tag of giant, too big for their boots, fat cat corporation, and talk to their consumers at eye level, and how better than by personalising the conversation by addressing consumers by their first name. Coca-Cola replaced its iconic branding with custom packaging that had one of the top 150 names in Australia on the front. People were encouraged to #shareacokewith a mate, a loved one, mum or dad.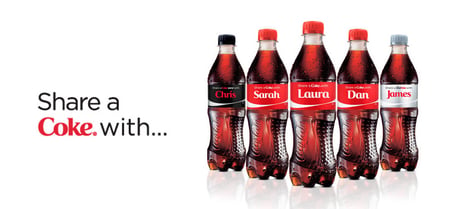 This was right back at the very beginning of social media when Instagram was in its early days with only 10 million users worldwide. Many believe this campaign really opened up everyone's eyes to the power of social media as a tool in marketing. People would share images of their names on the product, you could share a virtual can on Facebook and as they rolled it out in other countries, Coca-Cola even rented a space in Times Square that people would text in their names to feature on the big screen.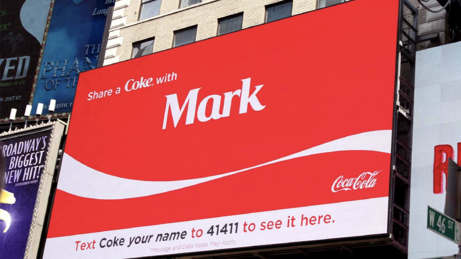 Now the big question is, was the juice worth the squeeze? Did it really work from a marketing point of view or did it just look good?
Consumption among teenagers in Australia grew by 7% with two out of five people buying a Share a Coke pack. Overall sales grew by 3% which considering Coca-Cola sales had seen a decade of decline it's impressive.
Now these numbers may not seem all that impressive in todays market but think back to 2012, sharing something on your profile was a little bit of a deal. In its first year in Australia 76,000 virtual Coke cans were shared on Facebook and traffic to the Coca-Cola page increased by 870%.
In America in 2014, the first year it was ran in the states, half a million pictures were shared with the #ShareACoke hashtag, 6 million virtual Cokes were made and Coca-Cola gained roughly 25 million followers on Facebook.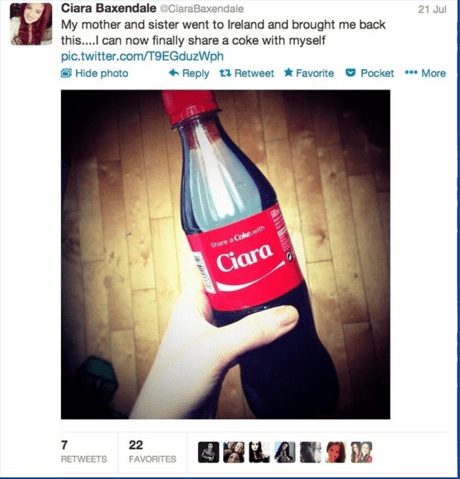 2. GoPro
Grab your phone, click on Instagram and head to the search bar. Search for #gopro and just have a quick scroll through. At the time of writing, the hashtag had 41.6 million posts attached to it. Considering the GoPro and GoProANZ (GoPro Australia & New Zealand) profiles have approximately 7,000 posts between them, that leaves virtually all 41.6 million posts to be put down to User-Generated Content. That is absolutely staggering and one of the best examples of UGC.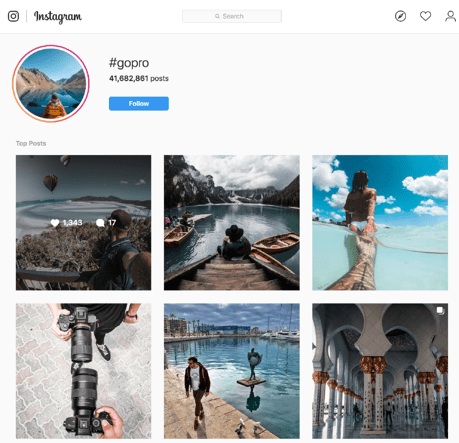 #GoPro isn't just a part of a single marketing campaign, it is their entire social media strategy and part of their brand personality. If you have a look at their profile almost every post is re-posted from a consumer or one of their many athletes. If you need any more incentive than having your image shared with a possible 15.8 million people, GoPro awards cash rewards for users with the best content.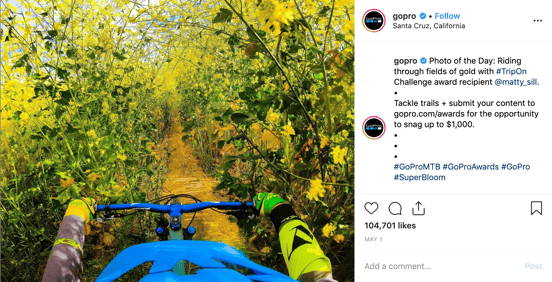 Who needs to pay for content creation and
planning out a content strategy
when you have a world full of consumers creating millions of images and videos for you? Here are some of our favourite user-generated content share by GoPro's account in the past couple of months so you can witness just how insane some of the content is and we can sit here and dream of holidays and dogs.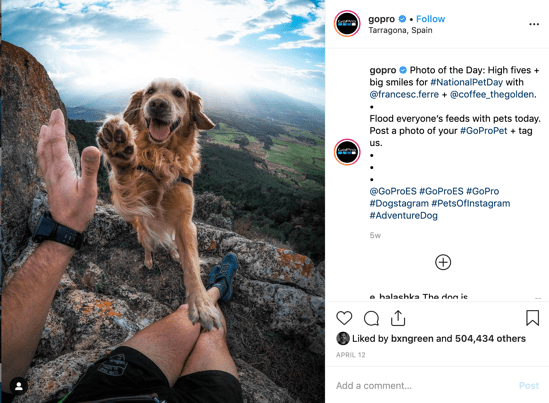 3. Australia's #SeeAustralia
Much like GoPro's marketing, Tourism Australia uses their Australia Instagram account to share and repost users content. In 2014, Tourism Australia posted incredible imagery of the Australian landscape with the hashtag #seeAustralia. They saw others starting to use the hashtag so they began reposting the best pictures.
At the time they had a team of three managing their social media and were the most successful Tourism social media accounts worldwide with 500,000 followers. To put that into perspective, at the time the next closest Tourism account had 50,000 with Canada. They'd receive more than 900 posts per day which the team would trawl through and pick the best five or six shots.
Tourism Australia write their social marketing strategy with the 24.6 million people that call Australia home and the 9 million tourists that flock to our shores each year as part of their social media team. They see it as not just Tourism Australia's account but the entire countries account.
Fast forward to 2019 and Australia has 3.6 million followers, boasting 20 percent year-on-year growth and they receive close to 4,000 posts per day. The #seeaustralia hashtag has 4.2 million posts attached to it from travellers from around Australia and the globe keen to be featured on the account.
The UGC featured on Australia's Instagram isn't just creating a successful Instagram for Tourism Australia, many of the tourism operators that submit imagery that features, see a spike in interest and enquiries the days after being re-shared.
Check out a few of the most liked posts of 2018 from the Australia Instagram below and you'll understand why it's so successful. I could have posted hundreds of their images, I may have even gone overboard with the below but they are just that unreal I couldn't help myself.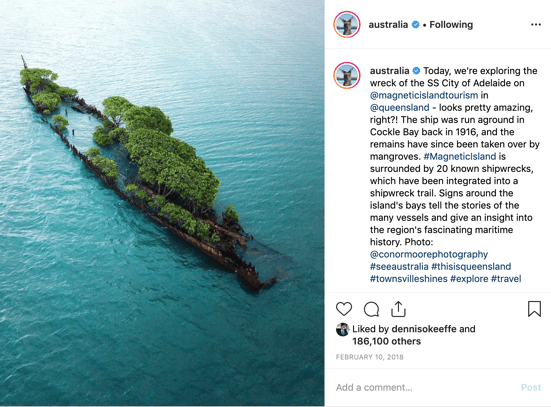 4. AJ Hackett Bungee
UGC isn't just for reposting and the chance of featuring on a companies Instagram account. AJ Hackett Bungee in New Zealand and Northern Queensland started utilising UGC in their carousel ads on Facebook. They knew people were already sharing quality content with a hashtag but it was the way they used it is what sets them apart.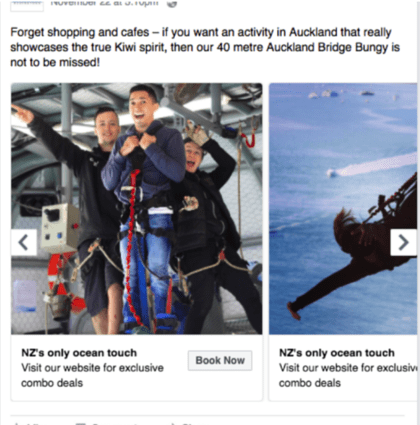 By utilising content created by users in their ads, AJ Hackett Bungee saw a 69 percent increase in ad engagement, 13.2 percent decrease in cost per click (CPC) and a 28 percent decease in cost per thousand reach. This is a quality example of expanding your campaign and utilising UGC in other ways than increasing followers and engagement.


5. Spotify
Spotify collects a stupid amount of data on all its users, from what you've played at what time to your most played artists, songs and playlists and the types of music you're into. We've all got random playlists for certain occasions, events or moods that we have either created ourselves or follow and Spotify uses this in their Wrapped Up campaign. It's a campaign filled with weird, wacky and hilarious data they've uncovered across the year and a screenshot into your listening habits.


Users are encouraged to use the app across the year to see their habits at the end of the year and share on social media. It's not just for listeners, they wrap up artists total streams, fans, hours spent listening and countries to allow the artists to share and thank their fans. People love to show off what sort of music they listen to, if they listen to pop or a more underground genre so it isn't hard for Spotify to encourage you to share.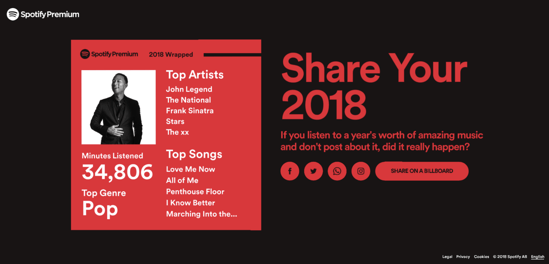 Using data they are able to collect from their customers and a little imagination, Spotify has turned it into an outdoor campaign. I mainly added this campaign in here because I wanted to highlight some of the cracking data they've discovered, so rather than me just talk about it here's a couple of the best user-created playlists and data from Spotify over the years.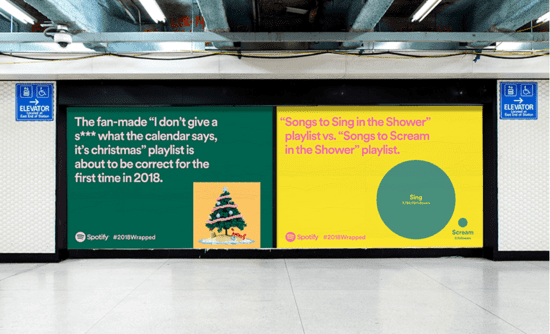 We've already mentioned that user-generated content is not something you can just force and suddenly be nailing, however, if you work on all aspects of your brand and people genuinely respect, even love your brand, then half the job is already done. If you're interested in learning more about social media marketing and how Neighbourhood can look after you, then schedule a meeting with us today.