For a few years now, Google ads and particularly advertising with Facebook have been important tricks up the sleeves of marketers to reach highly relevant audiences. However, Apple recently released the iOS 14.5 update for all iPhones starting from the iPhone 7, which brought with it a change that will drastically impact the value of these go-to marketing channels.


Basically, the long and short of it is this: Apple wants to improve its privacy policy and on its quest to do just that, has introduced an 'AppTrackingTransparency' feature, which makes companies prompt users for consent before tracking their data across their apps and across external websites owned by other organisations.

Naturally, most people will deny their permission. But just remember, before the update, 70% of iOS users shared their IDFA (Identifier for Advertisers) with app publishers, but this change will bring that number down to between 10% and 15%, according to Tinuiti. That's a drop and a half, right?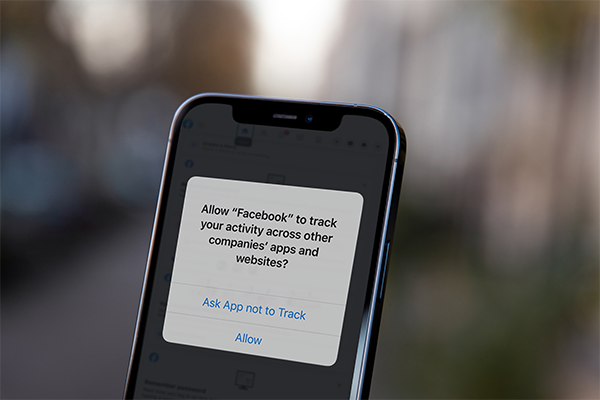 So, What Exactly is Tracking?
Companies track users by linking device or user data from their apps with device data from other organisations' websites, apps or offline properties for advertising measurement or targeted advertising purposes.


You're right ... it's a little complex, but don't shoot the messenger! Let's break it down in plain English...


For users, tracking gives companies the ability to reference what you do on your phone outside of their app in advertising (think of all the ads you receive for stuff you just Googled or looked at in a retailer's app). For marketers, it's what allows us to target information about peoples search habits and interests outside of just their experience on Facebook.


How the update will impact Facebook advertising
If you're using Facebook Ads, it will affect conversion events from the Facebook tracking Pixel. In other words, it will affect your targeting, delivery, and reporting.


If looked at from afar, here's how it will go:
Because Facebook won't be able to track user patterns, the effectiveness of the pixel will diminish.

This will lead to inaccurate reporting of conversions.

Meaning, the targeting options you use for retargeting purposes or creating lookalike audiences will weaken.

Bottom line - you'll have to spend more to get similar results from your Facebook ads.
Overall, the changes will affect small businesses with lower advertising budgets the worst, as they will find it increasingly difficult to reach their audience. This is because the ROI that companies gain from Facebook ads will decrease significantly, while users will continue to see ads, they won't be personalised to them and could often be completely irrelevant.

Some estimates even predict that the loss of personalisation could result in a massive 60% fall in website sales from Facebook ads.
But hold your horses... not all hope is lost
Here are some of the deets that you should be familiar with in order to make the most out of Facebook advertising, despite the negative impacts of the update:
When someone opts out, you will still be able to track a single event. For example, if you choose to track the purchase event, you will know when it is completed. However, you won't be able to track the steps the user took before purchasing.

You will be limited to 8 conversion events per domain. Say you run three pixels and track 'purchase event' on all three; then you'll have exhausted 3 out of the 8. Clearly, you'll have to prioritise the conversion event data you want.

The 28-Day attribution window will change to a 7-day post-click and 1-day post-view attribution setting by default. So, if someone checks out the landing page through your ad and purchases after the seven-day window, you won't be able to track the purchase back to the user.

You'll also be unable to get real-time reports of your ad campaigns. It can take up to three days to get the data depending on how fast the SKAdNetwork API provides it to Facebook.
Things you can do to weather the storm as a Facebook advertiser
Inevitably, people will update to iOS 14.5, but before everyone does - make sure you add these to your to-do list:
If you use the Facebook SDK for iOS, update to version 8.1 or above. Otherwise, you won't be able to create iOS 14 app install campaigns.

Verify your domain with Facebook and officially set up for the platform.

Prioritise events you'd like to track. This totally depends on the campaign you run, but typically, you should keep Purchase/Call booked, AddToCart, AddPaymentInfo, Lead, PageView, Subscribe, and Search.

Find alternatives to tracking or Facebook advertising altogether. Try Google Ads, SEO, email marketing, live chat for lead capture, etc.
Changes for Google ads users
Taking on a different approach to Facebook, Google Ads has made the decision to switch to Apple's SKAdNetwork tracking tool. While the impacts on Google Ads aren't as hectic, the update will limit conversion reporting by reducing visibility into key metrics such as sales and mobile app installs.
Given this decrease in conversion tracking capability, if you're using Google Ads on mobile devices, you should definitely monitor the performance of your campaigns as the update is rolled out and be sure to alter your bids where necessary.
To allow for SKAdNetwork support, you should also ensure that you're using the most recent version of Google Analytics for Firebase.
So, what now?
Tracking & aggregating user data has been one of Facebook's key strengths if looked at from a digital advertising perspective. It has helped Facebook's ad revenue grow to more than 84 billion in 2020. However, Facebook advertisers' overreliance on Facebook's data tracking has come back to bite them. Ouch.
People creating and measuring Google Ads campaigns will also have some adjustments to make, considering the reduced conversion visibility.
Consequently, we recommend you utilise platforms like HubSpot, where you can measure and track your marketing results across various channels. Doing this will allow you to compare data from before and after the release of the privacy feature to assess its direct impact on your business.
You will then be able to adjust your campaigns accordingly to get the top tier results you're chasing!