Just about anyone with a smartphone these days can consider themselves a videographer. And that's a good thing for businesses because video marketing is an incredibly effective way to reach your target audience. Video is more engaging and easier to consume than text and is more likely to be shared on social platforms. As a result, businesses of all sizes are turning to video to promote their products and services.


When it comes to making videos for marketing, you have to know your stuff and make content people want to watch. That means good storytelling, fantastic imagery, and proper tool and software usage. Oh, and you also need to know how to publish them correctly so that they can beat the algorithms that dictate whose videos people will watch.


This video marketing strategy guide will cover everything you need to start your video 'career'. By the end of it, we hope that you'll have all the information necessary to not only create a great video but use that video to grow your business to new heights.


Mount up, and let's get started.
What is video marketing
In its simplest form, video marketing is creating and sharing videos online to promote your business. This can include anything from product demos and testimonials to behind-the-scenes footage and company culture videos. No matter what type of content you create, the goal is always the same: to showcase your brand in a positive light and generate interest in your products or services. With the right approach, video marketing can be an extremely effective way to grow your business.


In fact, businesses believe in it so much that (according to the State of Video Marketing report) 79% of marketers not currently using video, plan on using it in their strategy in 2022 - the growth of video marketing is inevitable.
Buuut why?
This is likely because online video watching has almost doubled since 2018. Okay, so everyone's watching videos online. What are the benefits of putting more video content out in your own marketing strategy? Let's take a look.


Benefits of Video Marketing
No job is complete without a nice set of benefits. And for video marketing, those benefits are aplenty for your digital marketing strategy.


More Engaging, Easier to Consume
In a world where we are constantly bombarded with information, it can be hard to know what to pay attention to. People are increasingly finding that videos are a more engaging and efficient way to consume content, especially if it's a quick 15-second video. In fact, 96% of people in a survey said they watched an explainer video to learn more about a product or service.
Videos are easier to digest than text because they don't require as much mental effort to process - it sucks to admit but our attention spans are thinning. We can quickly take in a lot of information when it's presented in a visual format, plus it's a lot more stimulating to the senses.
Did you know that 90% of information transmitted to the brain is visual?
We often find ourselves drawn to watching a video even when we don't have time to spare because it feels like less of a commitment than reading an article.


They're Shared More on Social Media
Who has the time to read a long article when they can watch a short video and get the same information in a fraction of the time? Videos are more likely to capture our attention than static images, making them more likely to be shared with our friends and followers. And with the rise of platforms like YouTube and TikTok, it's no wonder we're seeing a spike in growth of video marketing with being easier than ever to create and share videos with a wide audience.
In its list of 9 Social Media Trends for 2022, Hootsuite put TikTok as the most important social networking for marketing–and TikTok ONLY does videos. However, even if you don't Tik or Tok, the algorithms for Facebook, Instagram, and Twitter all began prioritizing social media videos over text years ago - an example being how Instagram notifies an account's followers if someone starts video streaming. It's whatever keeps users on their platform the longest, and video posts do just that!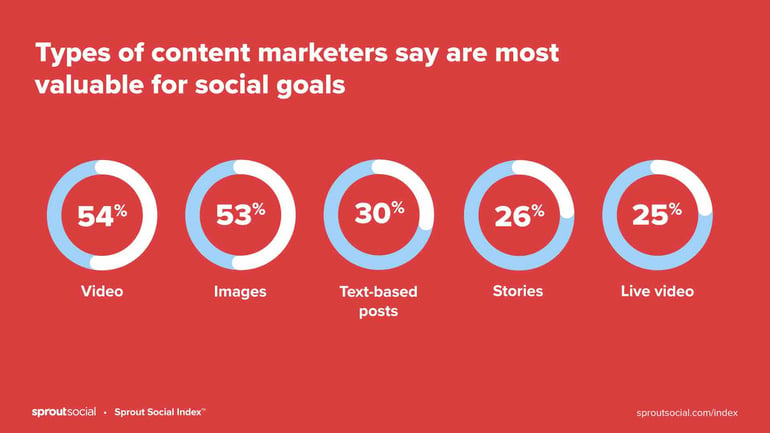 Videos Tell Stories
A picture may be worth a thousand words, but a video is worth at least a million–okay, we made that up, but it's probably true. There's just something about seeing moving images that brings a story to life in a way that static images can't quite match. Maybe it's because we as human beings are hardwired for motion, or maybe it's because videos add an extra layer of immersion by adding sound and music. Whatever the reason, there's no denying that videos have a unique ability to capture our attention and imagination. And as more and more people consume media on their mobile devices, it's only going to become increasingly important for businesses and storytellers to take advantage of this powerful medium.
Videos Make it Easier to Highlight Specific Products and Services
A well-produced video can show off a product in all its glory, demonstrating its features and benefits in a way that text and still images simply can't match. And unlike traditional advertising, which interrupts and annoys viewers, videos can be easily shared online, reaching a far wider audience in a way that feels organic and natural. In other words, videos are the perfect way to get your message across - without saying a word.
Videos Lead to More Leads
64% of consumers purchase a product after watching social videos created by brands. One of the main reasons for this is that videos can lead to higher consumer trust. Many video-sharing platforms allow you to put a call-to-action (CTA) or link to your site in the video's description or on the video itself. This opens the opportunity to track the success of your video by analysing click-through rates and another avenue to bump up those conversion rates. Videos can offer more ways to generate traffic to your site, leads for your products, and eventually more sales.

Videos Can Improve Your Brand
By telling your story through video and reaching a broader audience, you can make your brand more recognisable and get your message (and products) across quicker. Videos can provide testimonials from loyal customers, product demonstrations, and much more.
Now that we know what video marketing is and why it's so beneficial. Let's take a look at some of the different types of videos you could make.



Different types of videos
"Okay, okay, videos are important!" You might be saying right now, "But what kinds of videos should I make?" Well, we're glad you asked. Let's take a look at a few video ideas below...
Product and Service Videos
A product or service video is a short film that showcases a particular product, usually in a way that is both informative and (hopefully) entertaining. These educational videos are often used by businesses to promote to potential customers. Product videos might showcase the product itself and feature someone using it. Service videos help businesses explain what they do and how their services can benefit potential customers. Both service and product reviews can be extremely effective tools in your marketing campaigns, as they provide potential customers with an engaging way to learn about your new business or product.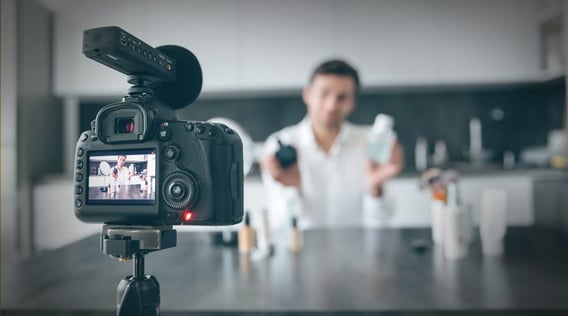 How-To Videos
How-to videos are a type of video that provides instructions on how to complete a task. They can help your target audience learn new skills or troubleshoot problems. They often feature step-by-step instructions, diagrams, and even tips from experts.


Whether you're looking to learn how to bake a cake or fix a leaky faucet, there's likely a how-to video out there that can help. Brands can use how-to videos for their specific products but also share expert knowledge around their industry.


For example, if you sell wine, then you may want to do a how-to video on tasting wines "like an expert" or how-to select a wine that's right for a specific occasion. The goal of these videos is to help the consumer walk away more informed than before, hoping that they remember it was your business that taught them that skill.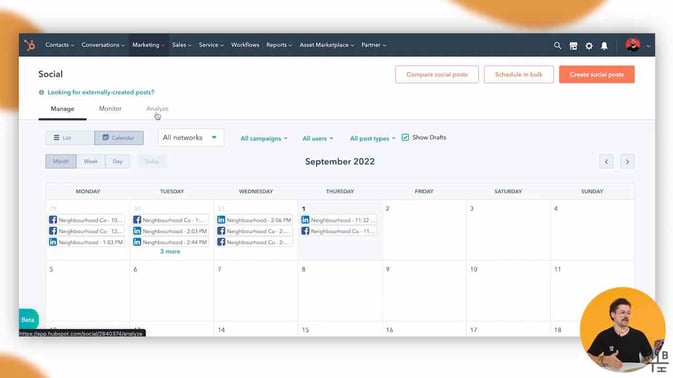 Customer Testimonial Videos
Word-of-mouth is the world's longest and still most effective form of advertising. We're pretty certain cave dwellers weren't posting ads on Google to attract more people to their fireside chats. Instead, they had to do the work of telling others what they were missing out on. Today, with review sites everywhere, it's very common for people to look at a review before stepping into a store or making a purchase. Customer testimonial videos provide potential customers with proof that your product or service works and could lead to more sales and higher credibility.


Event Coverage Videos
If your company visits trade shows or industry events, it may be beneficial for you to showcase some footage from those events for your audience members. It shows that you're out there doing the work, and it provides them with a point of contact in case they want to stop by and see your company in action.


Brand Overview Videos
If you're a new company or in a new space, it may benefit you to do a brand overview video introducing yourself (and what you do) to the world. Sometimes, when people hear about a company, the first thing they do is go to its website or social media pages. Putting a quick introduction on your web properties could go a long way in helping others learn more about your products and services.


Of course, these are just some of the many videos you could produce. There is no one-size-fits-all video for every business, so if you're unsure where to get started, you may want to consider doing a video from each category over time. That way you've got greater video posts to share and more opportunities to educate new and current customers.
Software and Tools
Like any good tradesperson, a marketer is only as good as the tools they use. If you want to create marketing videos quickly and easily, then consider checking out some of these options:
Video Marketing Blaster
Video Marketing Blaster can help you gain a lot of targeted traffic by helping you rank on the first page of Google. It's an excellent tool for beginners.
Features:
Find unique keywords
Generate optimised titles, descriptions, and tags for your videos
Helps drive traffic
Helps you with search engine optimization (SEO) even with zero experience


Similar to this, there's also TubeBuddy which Neighbourhood uses and works much the same. As a best practice tip to be discovered more on Google, make sure you include "chapters" which you can do in your videos description by adding a time stamp for when specific topics are discussed


Vidtoon
Vidtoon is an app that makes it easier to create videos and animation. It's useful for Global Marketing, Email Marketing, Affiliate Marketing, selling your videos, interactive & live videos, instant video publishing, and up-sell video marketing.
Features:
Provides an auto-translate for marketing globally
Offers interactive features like countdowns
Edit your videos in real-time
Automatic text language translation
Features like ready-to-use slides, smart elements, voiceover recording &audio editing, 24*7 customer support, etc.


Vimeo
Vimeo is online video software that offers storage and collaboration features. Its player is fast and highly embeddable. It offers advanced metrics, including being able to tell you who is watching your videos and when.
Features:
Amazing video quality, management, storage, privacy, and more
Post-production and collaboration
Customised players, Tools, Domain and Geo-restrictions, Custom end screens, Lead generation, etc.
Call to action, Email marketing, Google analytics, Advanced analytics, Engagement graphs, Social sharing, and Worldwide distribution


Biteable
Biteable is a video editing software that makes it easy to create professional videos quickly. It has thousands of built-in templates, which lets video editors create and sell content more quickly than ever before. Biteable's premium plans are powerful enough for large business enterprises and brands to promote and sell their products.
Features:
Make quality videos fast on platform
Built-in library with endless footage and animation, including 85000+ Shutterstock clips
Upload your own photos and easy personalization
Thousands of beautiful templates that can be posted straight to social media
Finally and most notably here is Abobe Premiere
If you've got the time to invest into learning the editing software it really does feature a suite of capabilities to make your videos top notch.
Some notable features are:
A stack of special effects

Colour correction flexibility

VR editing support

Software Integration

Audio editing


There are a tonne of unique tools and pieces of software to utilise to transform your video content but don't shy away of spending the extra cash on getting it done by the pro's. Much like you're an expert in your field, there's video editors that are pro's in there's.


These are just a few amazing tools and software for video marketers. It's all about finding what works for you and your business needs.


How to create a video for your business
Now that you understand what video marketing is, why it's important, and some tools you can use to create better videos, let's get into how actually to create videos for your business!
We've outlined these steps to video marketing creation:
Find the purpose
Consider the form
Write a script
Gather your equipment
Shoot the video
Edit the video
Publish the video


#1 - Purpose
The first step to video creation is giving your video a purpose. If you post a video to your own social, it's okay just to wing it or do something fun and silly. But, video marketers know that every video they post should have some kind of purpose. Of course, this doesn't mean you can't participate in the latest #Trending TikTok Dance. But, make sure that it fits your overall marketing strategy.


Whether in video or text form, any content marketing that comes from a brand should either inform, educate, or entertain their audience, and the purpose of the video should be to drive awareness, traffic to a site, or sell products and services.
#2 - Video Forms
Next, you want to consider what form your video will take. Is it short (30 seconds or less), medium (30 to 90 seconds), or long (over a minute and a half)? What type of video is it? These are mentioned above. What's the call-to-action at the end or what links do you need to attach to your video? Deciding what style of video you'll agree on is paramount to our next step.


#3 - Scriptwriting
Scriptwriting is where you want to spend a decent chunk of your time. Before pushing record and spending valuable resources, getting your script in a great spot can save you a lot of trouble down the line. It makes shooting easier and more organised, and it provides a roadmap when editing.


Even if you're doing a video with no words, you should frame out what each part of your video will feature. Fortunately, there are great video writing templates out there that can help you achieve exactly what you need to.


Remember, you don't have to stick to the script 100%, but you should take a few rounds of feedback before setting up your equipment.


#4 - Equipment
Whether it's your phone or a more advanced camera, you'll first need something to shoot your video with. Next, you'll need microphones to collect sound and a space to shoot. If you're doing an animated video, then just a microphone will likely be all you need.
Can't afford to invest in expensive equipment? Hire a production team, instead! There are lots of them out there and many will even help you get your script in a great place and provide you with all the information you need to start shooting.


#5 - Shooting
When shooting, don't be afraid to do multiple takes. Make sure your lighting is good and that the message is spoken clearly.
The worst thing you can do is get to the editing process and discover that there was a shot you missed or that the actor mumbled through your company's name.


#6 - Video Editing
Ask any filmmaker, and they'll tell you that the editing process is the greatest thing since sliced bread. Getting sharp with your video editing through the likes of visual effects and effective use of music offers huge returns - not just on user experiences but for the perceptive quality of your brand. Once you have all your footage, edit it into a nice, crisp video that fits within the time allotted. You can find some great beginner editing tips here.


#7 - Publishing Your Video
Publishing your video may seem as easy as clicking upload and then sharing it across your social channels and website. But not so fast! There are important steps in between, like adding the right keywords to your title and description and adding end frames and a call-to-action. And ensuring that all the visuals match your company's branding.


The reason you want to take your time during this part is that this video is to help your business market itself. And if we've learned anything about algorithms over the years, not properly setting up your video to do well can lead to a really sad fate.
Time to Market Your Video
Video marketing should be part of your overall marketing strategy. This means aligning your videos with your web properties, social platforms, business purposes, and overall sales. Creating a video can be grueling and quickly drain you of your resources and energy unless you're well-prepared or have a great team helping you. Don't hesitate to reach out to Neighbourhood if you're eager to get on top of your video marketing strategy this year.