Despite representing one of the oldest digital marketing strategies in the book, emailing remains a highly lucrative channel. More than 290 billion emails are sent daily. Blimey!
By the end of 2023, this number is expected to reach 347 billion daily emails. Email marketing strategies have constantly evolved over the years. What worked 10 years ago is different to what works today.
In the face of all the changes, email marketing remains a key player when strategising marketing campaigns.
Why you may ask?
It's because it delivers the best marketing ROI. That's right... Email Marketing is the true MVP!
With the right elements in place, emails can be the ultimate weapon in improving your campaign - even more so when coupled with automation ... By sending personalised communications to customers who fit certain criteria or perform particular actions, you can boost your open rate by 70.5% compared to generic newsletters. If you're new to the concept of automation but are keen to exploit its potential, we've crafted a helpful guide to developing a killer email automation strategy.
Let's get this show on the road...
What is email automation?
Put simply, email automation involves setting up personalised email campaigns (or workflows) that send communications automatically when contextual requirements are fulfilled. Sounds confusing? Don't fret - you probably receive automated emails every day without even realising.
A common example of an automated email is one that reminds customers of an abandoned cart. The purpose of such communication is to boost the company's number of completed transactions and drive profits. Other reasons to set up an email automation strategy include product promotions and survey reminders.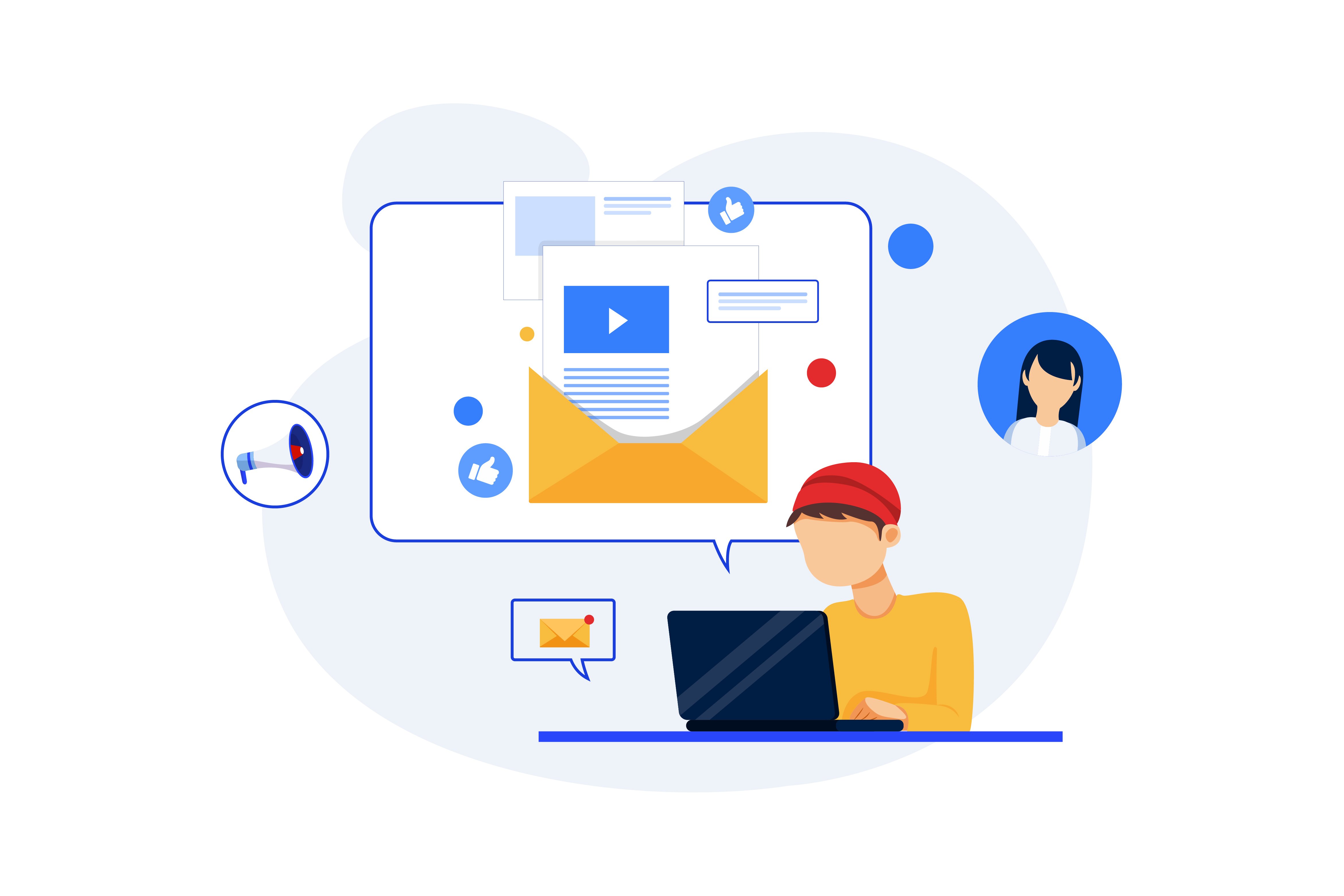 Why should you be using email automation for marketing purposes?
The benefits of crafting an email marketing campaign strategy are wide-ranging and include:
1. It allows companies to create highly segmented lists
Customers expect highly personalised communications in today's digital landscape. By creating segmented email lists based on user data, you can develop highly targeted campaigns that drive engagement. Subscribers are more likely to react positively to relevant and timely messages that cater for their needs.
2. It helps marketers reduce unsubscribe rates
Email automation generates engagement data such as unsubscribe rates that you can harness to improve marketing strategies. For example, granular data could help you to improve the tone, content, length, or quantity of links within your emails.
3. It saves time
This is by far the most compelling reason to start automating your emails. By computerising repetitive tasks such as building email lists and follow-up emails, your marketing team can focus on more creative tasks such as content creation and innovative strategising.
4. It helps convert leads into loyal customers
Countless studies have shown that customers prefer to interact with brands via email. By automating your messages, you can ensure that you adequately nurture leads via a channel that suits their requirements and remains relevant to the customer journey.
How to automate emails
There are several steps to email automation. To begin with, you will need to investigate email marketing automation platforms to find an email service that suits your needs. Once you have the relevant email marketing software in place, you can get on with building workflows. Steps include:
1. Identify key audiences
With a customer relationship management (CRM) platform like HubSpot's (*ahem*), you can use your customer database to create highly segmented mailing lists. Say, for example, you want to promote a new product to relevant audiences. Using your CRM, you can whittle down recipients according to their gender, job title, or purchase history. Top tip for those playing at home - for an upsell campaign, you should eliminate the email addresses of customers who have already purchased the product you're hoping to push.
2. Establish enrolment criteria
The enrolment criteria for automated emails refer to the conditions that must be met for a customer contact to join a workflow. For example, marketers can create personalised workflows that trigger when customers submit website forms, click email links, view articles on your site, sign up to your mailing list, make a purchase, and more.
It is also possible to establish workflows based on contact information such as location, the number of times a customer has visited your website or social media pages, content downloads, or a combination of these properties.
3. Identify automation actions
You must specify what actions your email marketing automation platform should take under certain circumstances. These actions could include the sending of emails, updating your CRM, or delaying certain communications. You will need to map out event sequences using your automation software, stating precisely when it needs to take action. This step can be a little confusing for newbies, so it is well worth enlisting digital marketers to help you get it right.
4. Create relevant assets
Different workflows require different types of emails (or 'assets'). Before you set up a workflow using your automation software, you must create and load relevant email templates. Remember to spend time making them as eye-catching and engaging as possible, as this will boost your chances of securing click-throughs and conversions.
5. Test your emails
Once you have established a workflow and written up a list of commands for your automation software to follow, you can conduct a test run using your personal email inbox. If you encounter any issues, look at your workflow chart and make any necessary tweaks. There may also be a problem with your enrolled contacts list or in the send settings.
6. Launch the workflow
Once you're happy that your workflow doesn't contain any bugs or inconsistencies, you can honk that green button. Of course, the work doesn't end here. You need to monitor the success of individual campaigns to ensure that it has the desired effect. If you notice any mistakes, don't hesitate to adjust part of your workflow.
It is also worth remembering that most email marketing automation platforms allow users to automate actions besides email. As such, it may be worth keeping track of your workflow's ability to add or remove contacts, update contact information, and other administrative jobs. If necessary, you should update your commands to make your email automation strategy as effective and growth-driven as possible.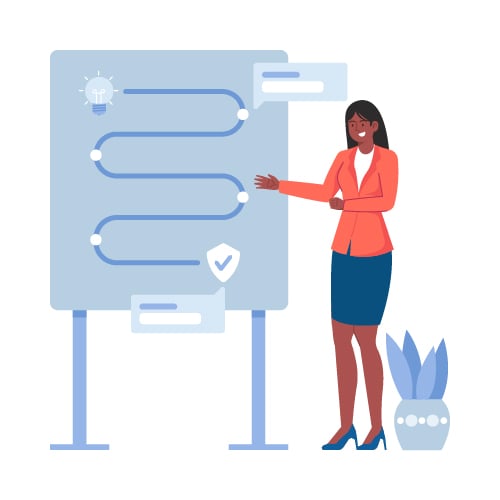 Examples of email workflows
Workflows can take many different forms depending on the style and purpose of your email marketing campaign strategy. Common examples include:
1. Blog subscription workflows
If you run a successful blog, it is a good idea to set up automated thank-you emails to new blog subscribers, as well as subsequent reminders to read the latest article instalments or update their subscription settings. Doing so will help drive traffic to your blog and keep customer engagement levels high.
2. High engagement workflows
Automated engagement emails are triggered when customers interact with your digital content regularly. This could include clicking on your social media posts, submitting web forms, visiting your site several times, and much more. Automated emails sent out to these loyal customers should be friendly and encourage them to share your brand's best content with their friends. You may also wish to offer perks, rewards, and birthday emails in exchange for their loyalty.
3. Workflows for inactive contacts
Inactive contacts are those who appear to have fallen out of love with your brand. Triggers for identifying these individuals could include a drop in site visits, low rates of form submissions, the unsubscribe rate or other signs of low engagement. Emails sent to their inboxes should encourage re-engagement through exclusive offers or friendly reminders about how awesome your brand is ... *Just checking in*!
4. Event registration workflows
If you're running a virtual or in-person event, you must use email workflows to communicate with registered attendees. Your workflow could include registration confirmations, messages containing vital information such as schedules and accommodation costs, log-in details for webinars, and gentle reminders about the event. After the event is over, you may also wish to send follow-up information such as slides presented by keynote speakers or satisfaction surveys.
5. Abandoned cart workflows
If you've ever left an e-commerce site with items in your basket, you're probably familiar with this type of workflow. Abandoned cart emails usually contain friendly reminders that customers haven't completed a transaction. In most cases, this kind of email encourages customers to go through with their purchases. In the long term, setting up this kind of workflow could boost your eCommerce Businesses.
6. Customer service workflows
Automating customer service emails could help to save your sales representatives a significant amount of time. Your workflow may categorise different kinds of complaints and assign them to different customer service reps. Complaints are often referred to as 'tickets' and can be used to keep track of problems and ensure your team reaches a resolution.
7. Lead nurturing workflows
Lead nurturing is a fundamental part of any effective email automation strategy, and it can take several forms. You could, for example, set up automated emails that send when a customer downloads an ebook from your site, attends a webinar, or signs up for a free trial offer. It's the secret sauce of gently pulling leads through their buyer's journey - and one step closer to becoming customers!
Email Marketing is only as strong as you make it. It's no longer just enough to whip up a half-arsed draft and click send. Incorporating automation into your email strategy is the only way to take your campaign to the next level. However, we understand establishing an email automation strategy can be a little confusing for beginners. If you're looking to harness the power of email but are unsure where to start, we've got you covered.