Ads can get a bit of a bad rep. I mean... I was quite happy to sit down and watch a Home and Away rerun on the telly, without rudely being interrupted by ads that you can't even skip?! And don't even get me started on having to fast forward through podcast ads, or having to count to 5 before being allowed to 'skip ad' on YouTube like a parent threatening a child who is tWO sEcOnDS away from the naughty corner.
No one necessarily enjoys being forced to watch ads, with possibly the ONLY exception being those wholesome Christmas ads that air every year in the UK. But sadly, Christmas doesn't last all year long (no matter how many times George and Frank sing about it) and neither do their ads. With a little something called "banner blindness" (where users ignore ads on websites), it makes it even tougher for you to get through to your customers.


So how the heck are you supposed to reach potential customers when everyone is sick of ads? Just as people enjoy the UK Christmas ads, the real problem might not be ads in general, but rather the general content of the ads. Creating content that provides genuine, human value to consumers can work wonders in today's world. In fact, it's what our trusty pal, inbound marketing is all about.


Want to know more? Of course you do! Keep on scrolling.
What is inbound marketing?
HubSpot co-founders Brian Halligan and Dharmesh Shash coined the phrase "inbound marketing" which is a business methodology that attracts customers by creating valuable content and experiences that are tailored to them.


"While outbound marketing interrupts your audience with content they don't always want, inbound marketing forms connections they are looking for and solves problems they already have".


Inbound marketing, is sometimes referred to as "permission marketing", while outbound marketing is sometimes referred to as "interruption marketing". Basically, inbound marketing isn't quite so rude as the ads on the telly, and instead is the button allowing you to skip the intro of a tv series, or straight to the next episode on a streaming site.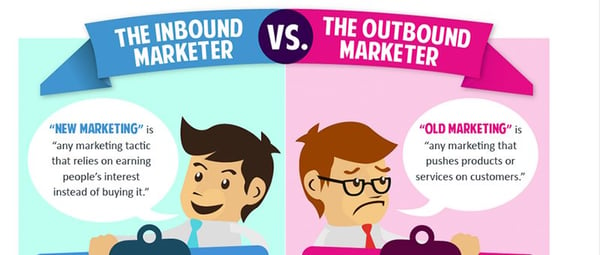 Why is inbound marketing important?
Gone are the days of people actually enjoying taking time out of their day to chat to the door knocking sales people who try to sell you some top quality encyclopaedias (unless you go by the name Joey Tribbiani). That's where inbound marketing comes into the game. Instead of the old school way of selling by going door to door demanding "Here's my stuff, now buy it!", inbound marketing allows you to attract potential customers, build relationships with them, and gain their trust.


As we've clearly moved away from the outbound marketing era into the inbound marketing era - what does this mean for your business? If you are yet to start using inbound marketing in 2020, chances are you are probably falling behind your competitors, and it's time for you to take action.
What is the Inbound Methodology?
HubSpot defines the Inbound Methodology as the method of growing your organisation by building meaningful, lasting relationships with consumers, prospects, and customers. Why? Because when your customers succeed, you succeed.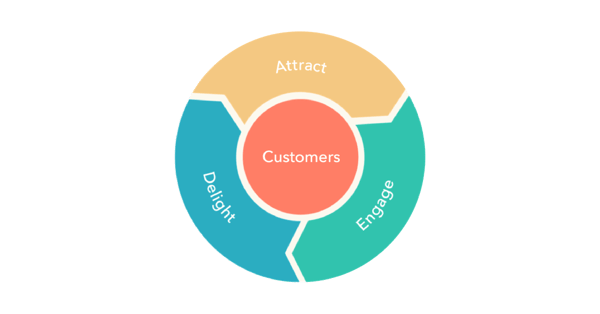 The inbound methodology can be applied in three ways:
Attract. Create content that helps your target audience solve their problems and achieve their goals.
Engage. Continue providing content that helps your target audience solve their problems and achieve their goals.
Delight. Provide support to your customers so that they would solve their problems and achieve their goals by using your product.


The key to inbound marketing is to help people solve their problems at every stage of interaction, whether they are a stranger, a prospect, or a paying customer. With inbound marketing, the world really does revolve around the customer. You need to frame your offerings as being key elements that will help them reach their goals or solve their problems. Simply ask yourself what do they want to achieve - and then help them do exactly that. Easy!...(ish)
How to create an inbound marketing campaign
The Inbound Methodology framework should assist you in creating inbound marketing campaigns. The following infographic demonstrates the variety of different content types that suit the different stages in the buyers journey.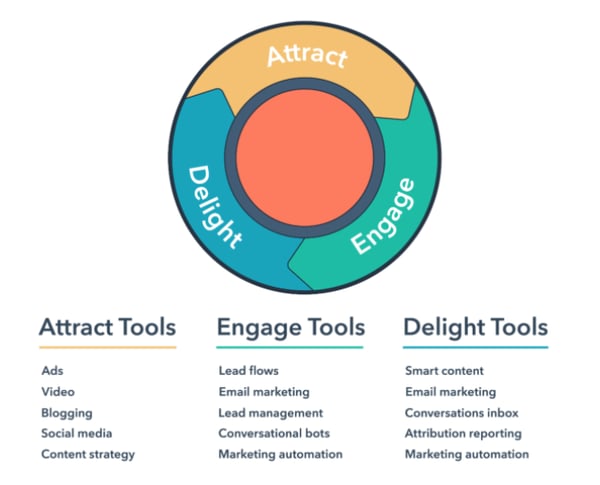 While it looks a little complicated, if we can do it, so can you! To help you out, we run through each stage and how you can plan your very own successful inbound marketing campaign!

While I realise that ads are included in the attract tools, these do NOT refer to the annoying pushy ads I've already expressed my annoyance to. These ads are more related to search engine ads, as they are considered to be inbound and are only shown to someone after they type in a relevant search term.

Attract
First things first, you should start by clearly defining your target audience. Who is your ideal customer? If you don't know the answer to this question, you need to rewind a little. Understanding who your buyer persona is, is the first step. It helps you understand the purpose behind what you do!


Once you know who you want to reach, it's time for bit of customer research. Go where they hang out online and observe the discussions happening there. What are they frustrated with? What issues come up again and again? What are they trying to achieve and what's getting in their way? That will give you a general understanding of what they are struggling with and what their potential problems are. Your target customers pain points are a goldmine to your inbound marketing strategy - providing that your product or service can actually provide a way to solve these problems.


Then it's time to do keyword research and create a list of keywords that you are going to target. There are plenty of free tools out there, but it's best to go with a premium one like Ahrefs. For example, if you sell email marketing software to bloggers, then targeting a keyword search like "how to build your email subscribers list" makes sense, as bloggers are able to notify those on the mailing list every time a new blog goes live. It's essentially an issue they face that is directly related to your product.
Now that you have your keyword list, it's time to start creating SEO content, meaning content that is specifically designed to rank on search engines. Clearscope is a great tool for this because it provides competitor analysis, gives you a list of words you should use in addition to the main keyword, and helps you optimise your content in a way that increases the odds of it hitting the first page of Google. Nothing is ever enough anymore, and the same goes with content. Not only do you need to produce great content, relevant to your target markets pain points, but they also need to build backlinks to that content.Targeting the right keywords, creating high-quality content based around them, and building links to that content will help you increase your search engine traffic.


SEO should be the foundation of your inbound marketing strategy, but it doesn't mean thats the only type of content you can create. Video marketing is content that you can't afford not to use, given the digital landscape of 2020. Not to mention, YouTube is a massive platform, so posting videos there can help you reach even more people. There are other tools and templates out there to help you rank well on with YouTube videos including our personal fave at Neighbourhood, TubeBuddy.

Finally, there's also social media. Social media is a huge element to a content marketing strategy, but instead of going in guns blazing, you need to pick the platforms that are used by your target audience. To begin with, you should pick one or two platforms to focus on and then consistently post high-quality content that provides value to your followers. Social media scheduling tools like Buffer and Edgar can make it easy to coordinate posting as they allow you to schedule posts in advance.
Engage
Once you have someone's attention, your next objective should be to get their contact information. This is also known as lead generation, which in order to be successful at, you will also need a lead magnet. It's something that you offer for free in exchange for a visitor's email address. It can be an ebook, an email course, a video course, an app - it can be anything. The key component of a lead magnet is that there is a value exchange. For example, providing 10% off the first purchase when you sign up to the mailing list.


Then, once you have everything ready, start collecting email addresses:
Add opt-in forms to your website. They are especially important on your blog. Make sure that there's an opt-in form below each post.
Add an exit-intent pop-up. This is a pop-up that is shown when the visitor is about to leave the site. You don't have anything to lose at that point.
Experiment with other types of pop-ups. You may want to A/B test various pop-ups. When you ask visitors for their email address the moment they land on your site, do they give it to you or do they get annoyed and leave? The only way to find out what works for you is to run A/B tests.
Of course, getting someone's email address is just the beginning. You then have to earn your place in their inbox with each and every email. How can you do that? Focus on providing value. Sure, it's okay to send promotions once in a while, but the vast majority of your email content should be focused on helping your customers solve their problems and achieve their goals. The aim of the game here is to gain their trust and build a relationship with your prospects. That way, when they are ready to buy, your product will be the first thing that comes to their mind.
Delight
Similar to netballers calling out "here if you need" in support of their team members, you need to be the same to your customers once they have bought a product. Providing them all the support they need to achieve their goals and solve their problems is key to ensuring they become lifelong customers.


Customer support is paramount here, so you may want to consider investing in premium customer support software like Groove or HelpScout. Response speed is what matters the most. HubSpot found that 90% of people who seek customer support rated an immediate response as "important" or "very important".


But what does "immediate" mean?


72% of survey respondents expected to get a response within 30 minutes.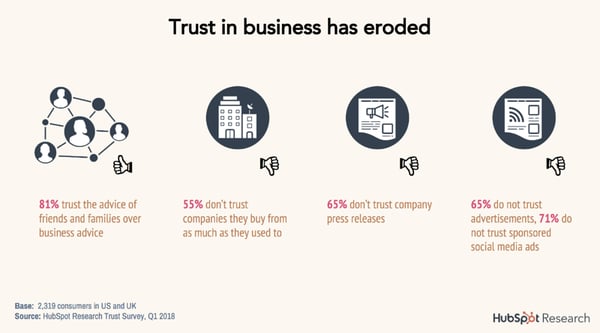 Of course, replying to customer support inquiries this fast is not always possible, but it is a benchmark you should be working towards. It makes sense to provide customer service training to ensure the team members in your company all have the same standard of service. Additionally, creating guides or infographics that educate people who purchased your product on how to make the most out of it is another way to support your customers.


For example: The SEO software company Ahrefs provide two courses, "Blogging for business" and "Marketing with Ahrefs" in their Ahrefs Academy, which helps their customers master this complex tool and succeed with search engine optimisation.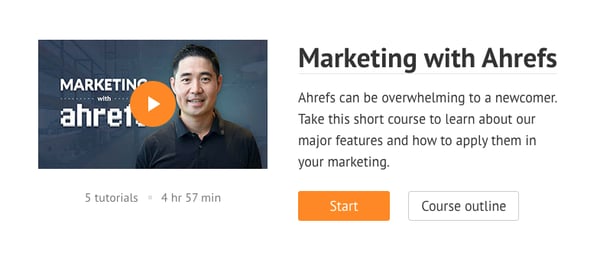 Finally, you want to keep your ear pressed to the door, (exactly how you used to eavesdrop on your older sisters conversations) when it comes to social media listening, so that you would always know what is on your customers' minds. And also, to hear what they think about your business! Understanding areas for improvement will allow you to continue providing value to them by improving the existing features and developing new ones.
No one wants to come across as sleazy as Matilda's dad, by selling sh*tty broken cars for the sake of it. But lucky for everyone, with inbound marketing, you don't have to!
Instead of bombarding people with sales pitches, knocking on their door, or following them in shopping centres; you can create a strategy that attracts your customers to you and your business with a problem you can help them solve. That way, you will build a relationship with them, earn their trust, and become their go-to source for information in your niche. So start investing in content. Yes, inbound marketing takes a lot of time, but if you do it right, you'll get lifelong customers from it - and that's gotta be worth it!