Here at Neighbourhood, we sure do bang on about the importance of content - be it why it's so important for your SEO strategy, how it builds trust and loyalty among your target market, how it pushes prospects through your buyer funnel and why it's imperative to your overall success. It's been scorched into the subconscious of every marketer: content is king ... *eye twitch*.
But hold up; writing the content is one thing, but you need to get that content in front of people. Unless you really like knocking on doors, the best way to do that is via a website. Thankfully, setting up a home for your content online isn't the difficult, time consuming process it once was, mostly thanks to Content Management Systems (CMS). Whether you're creating a corporate website or an eCommerce store, a CMS enables you to control your site's content, design and functionality without having to know any code or being a total website whiz.
There are literally hundreds of CMS options to try and choose from - maybe you've heard of a few, WordPress, Joomla, Drupal ... - each offering unique functionality to fulfil different business purposes, and to select the right CMS for your business, you need to ensure its features align with your needs and goals. In reality, there's no perfect CMS and no solution to suit all possible situations. With so many options and the daunting task of picking just one, how do you ensure you choose the right one for you?
A CMS is a super important investment, choosing and implementing one is only the beginning of a journey that can pay dividends – or cost you dearly – down the road. There are a lot of pitfalls to be wary of if you're a first time CMS user, such as weighing the long-term cost of inexpensive solutions, underestimating the amount of work it takes to manage, or not aligning your team's needs with the CMS capabilities. If you want to do it right the first time, then start by checking out the following tips regarding the right CMS for you!
1. Don't build custom/ in-house content management software
While you might be super into DIY around the home, or you live by the mantra 'if you want something done right, you've gotta do it yourself'; trust me when I say that now's not the time for a do-it-yourself project. As well as us never having seen it work, no matter how much you plan for it, your team simply will not be experienced enough to handle the many capabilities that come with building a CMS. As well as this, the amount of developer support required in the long-term outweighs the cost of purchasing a CMS. It's the same as choosing to build a bed yourself vs buying one from IKEA... unless you know your way around a workshop, probably better to let someone else give you all the necessary bits and pieces.
2. Avoid heavy developer reliance
Relying solely on developers is a recipe for disaster, as development speed should in no way dictate your business moves. Your content management system needs to empower your team to focus on implementing sweet campaigns and strategies to increase web traffic, rather than spending crazy amounts of time managing the tech side of things.
3. Ensure the CMS is scalable
This is a bit of a no-brainer, friends. For growing businesses, change is inevitable - and change impacts your website. So make extra sure you choose a CMS solution that can grow with you and scale as you need it!
4. Support is more important than software
Imagine you find the perfect CMS, it offers everything you need, but the platform-side team isn't available to help you when you need help most. Not ideal. Finding a content management system that allows developers to work without disrupting the creation and management of content is sure to save your business time and money. Keep an eye out for CMS partners that offer 24/7 Support, especially via chat.
5. Be sure to test and get a proof-of-concept first
Before you go face first into CMS roll-out, implement a section of the website first and get team members and end-users to check everything from creating and authoring pages to establishing a workflow process. Testing can show you where a software truly shines, as well as showing you exactly what may have been hidden in the shadows, mitigating a load of issues that may not have not been apparent at first glance in the process.
6. Choose a UI that's intuitive
Having a user-friendly interface is particularly important if you have a team that won't be living in the system every day. Newbies need a solution that's easy to use, doesn't need a load of technical know-how or training and quickly pick it back up when they log back in. And as well, an intuitive UI just makes life a little easier for everyone!
7. Describe requirements with a real-use scenario
A usage scenario is the most effective way to describe requirements for your CMS selection process. A usage scenario can be described best as a 'narrative that describes what a person needs to use the technology for', used as a basis for comparing different platforms. Usage scenarios should be specific about inputs and outcomes - but be sure not to get too specific, your scenario shouldn't include procedural or user interface details. User scenarios should be prioritised by impact and frequency, so definitely include that hour-long task you do every single day, but feel free to leave out that occasional task that only happens a couple of times a year.
Our Recommendation
So with all of these thoughts swimming around your head and if you're as indecisive as me, you might just be thinking, "just tell me what to do, Liv!" So here you go. Here at Neighbourhood, we've found the best bloody CMS on the market, that optimises our website for conversions as well as for every platform, manages all of our content in one place and personalises our content for every visitor. What is it? The HubSpot Content Management System, the ultimate toolkit for the modern content marketer.
So why do we think the HubSpot CMS is the absolute bomb? Allow me to divulge, HubSpot has:
Intuitive Dashboard
Right off the bat, the HubSpot admin dashboard is what dreams are made of - allowing you to manage all the tasks involved in content production right there in one place. Those tasks may include scheduling content, monitoring threats, tracking user activity, installing modules and plugins and even reviewing performance analytics!
I mean take the CMS Hub for example. Not only can you create loads of quality, multi-media blogs and landing pages, you can also manage, optimise and track their performance! And luckily - as it's integrated with HubSpots' marketing, sales and service tools you can also capture leads, run tests, manage ads, track content-level insights and analyse website traffic reports in the same place!


Responsive Templates
When evaluating different CMS platforms, have a squizz at the selection of different templates available to you - these are key for simplifying your publishing process and providing a consistent look and feel across your site. Using templates (like those on HubSpot) eliminates the difficulty surrounding starting posts from scratch when you got to publish new content. These templates can be responsive too, to ensure that every page published on your site is optimised for all devices.
Powerful publishing tools
To ensure you can easily create and publish different types of content - from blog posts to landing pages - you need a powerful content editor. In HubSpots' perfect world, you can add and rearrange images, videos, CTA's, and forms as well as preview the post or page before publishing!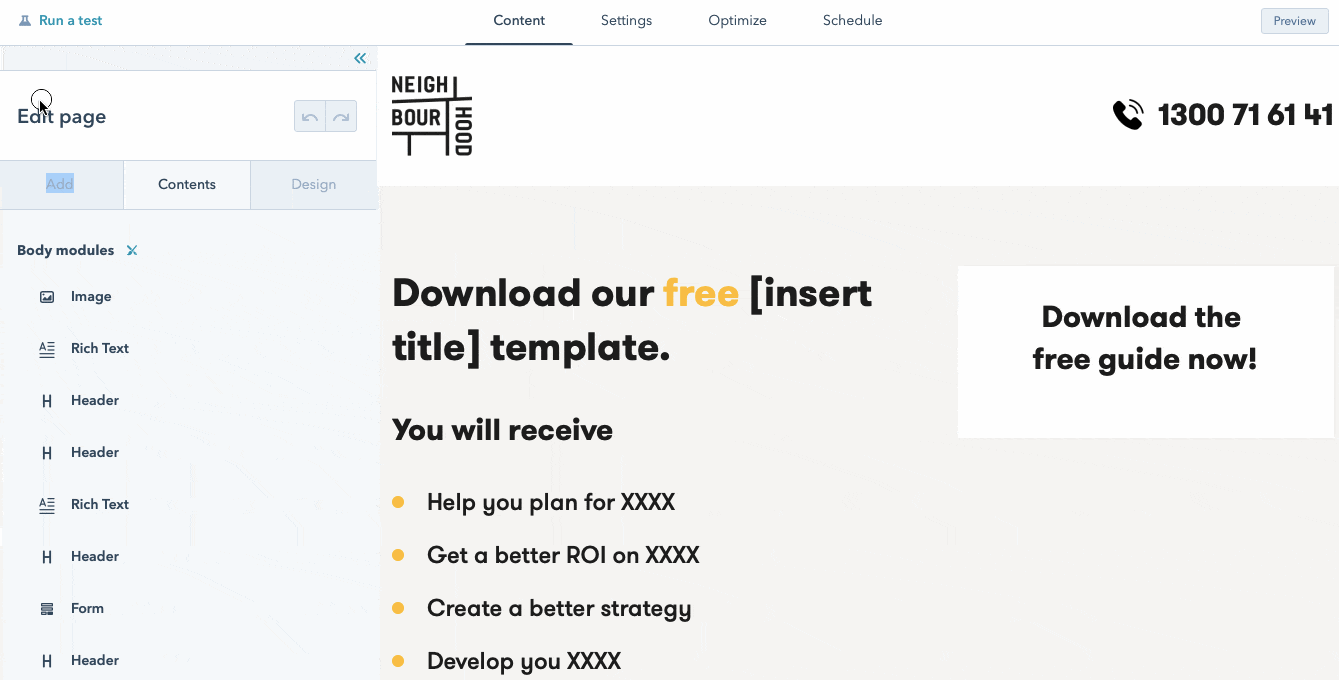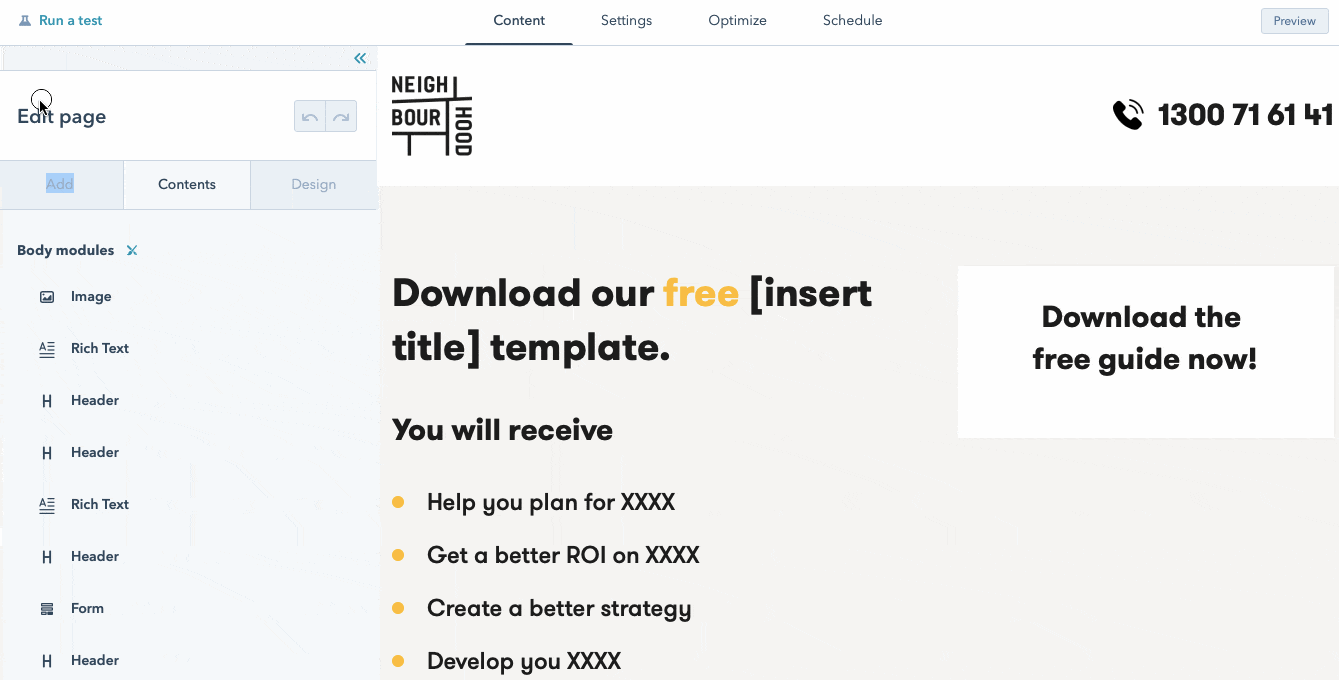 Built-in SEO tools
A CMS with built-in SEO capabilities will help you optimise your content for search and improve your overall chances of ranking. Your ideal CMS needs to be SEO-friendly - does it use proper HTML markup? SEO-friendly permalinks? Responsive design elements? The HubSpot CMS Hub takes this a step further, by offering you SEO recommendations as you create content. You can see below that while setting up a blog, HubSpot provides recommendations based on keyword quality, whether to add meta descriptions, title and content length, etc. The recommendations are designed to help visitors and search engines to better understand what the page is telling them, thus improving your ability to rank.
Social Media Integration
Organic traffic is just one source of referral traffic you can leverage on your site. To drive referral traffic to your site, a CMS needs to have integrated social capabilities. Luckily with HubSpot, you can not only schedule and publish posts to social media, you can also add social media sharing buttons to your posts and pages as well as analyse the performance of your social media efforts in your dashboard!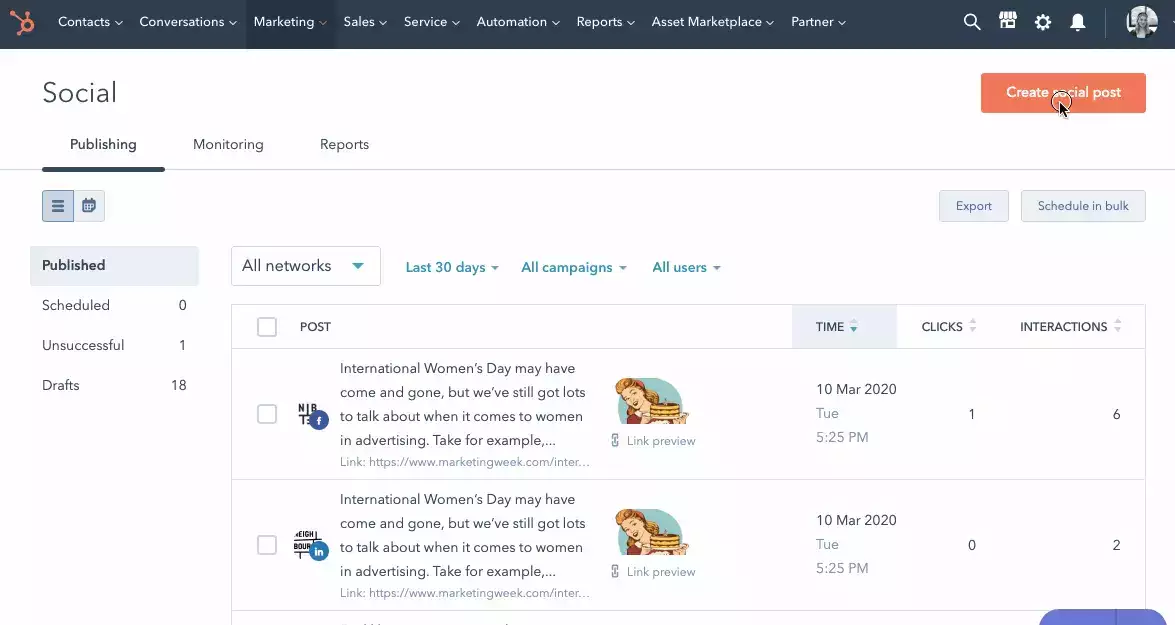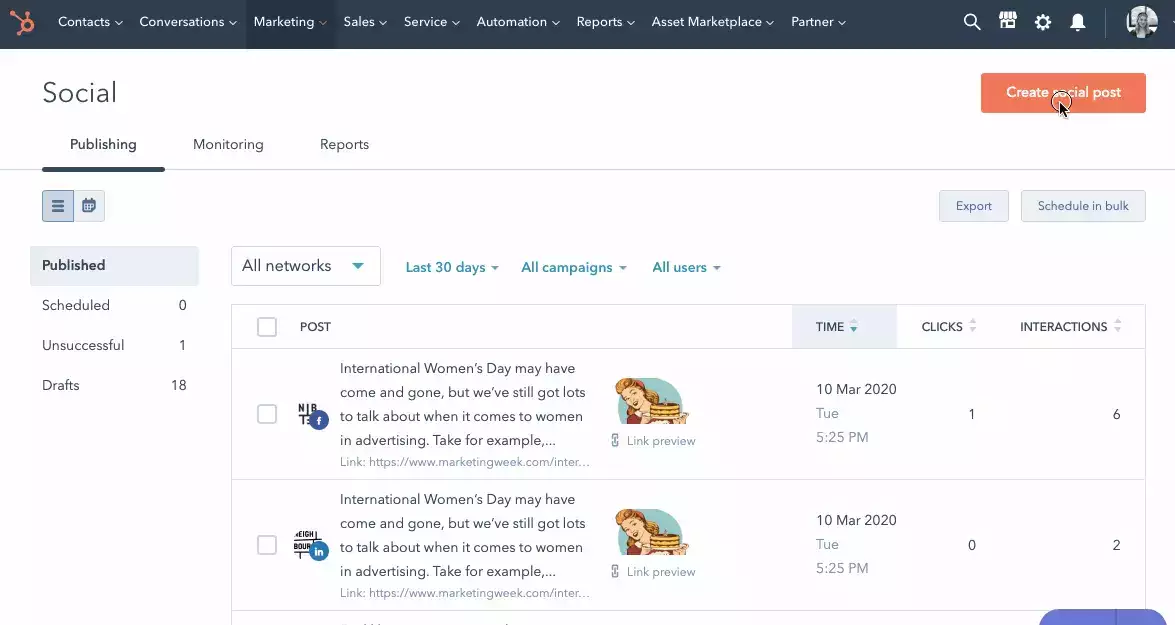 Detailed analytics
Insights like where your target personas are based what device they're using, how they're interacting with content on different devices and which pieces of content like like the most are absolutely crucial for refining your content strategy. HubSpots' CMS has built-in analytics for measuring these performance indictors, right there on your dashboard!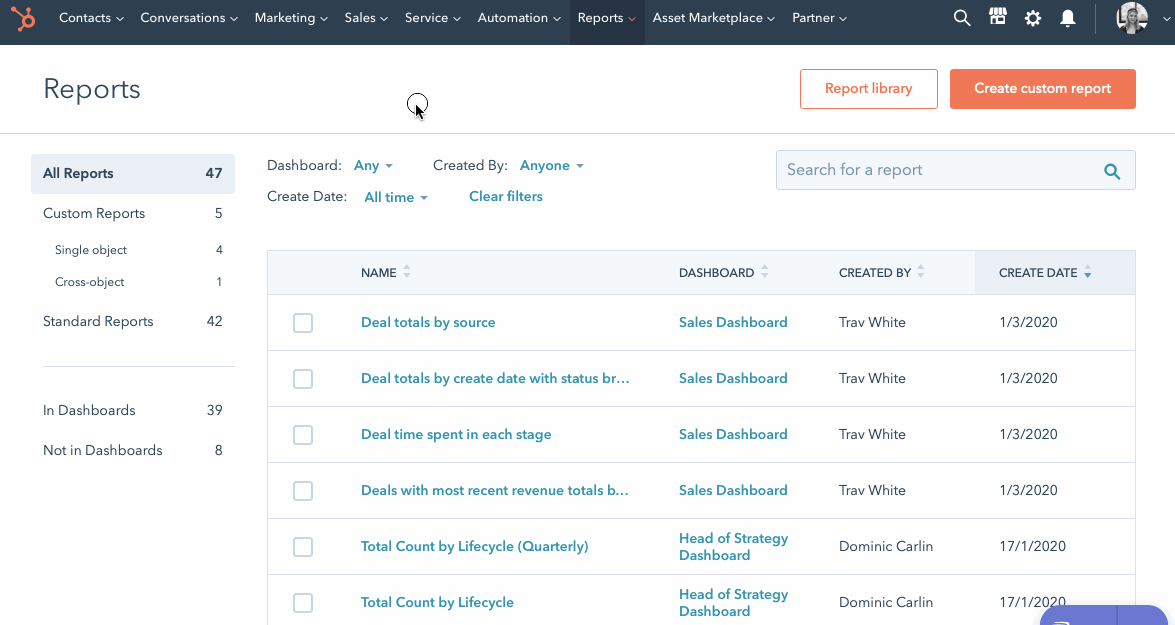 Security
HubSpot is constantly monitoring the CMS to ensure maximum security to give you peace of mind that your site is hosted on the best and most secure CMS available on the market today! They do this through a number of different initiatives, including serving your content through their global content delivery network (CDN), allowing them to handle high levels of traffic and ensuring that your site remains active during influx periods. HubSpot also employs a web application firewall, to detect any potential attacks before they pose a threat to your site. As well as this, every site hosted on the CMS is automatically provisioned with a standard SSL certificate - which creates greater trust between your brand and visitors to your site, and increases your ranking within Google search results.
Support
Best of all, the HubSpot Support team is available 24/7 to help you out when you need answers quick-smart! If you ever have any questions or technical issues, all you need to do is click the Help button in the bottom-right corner of your account to see your HubSpot Support options!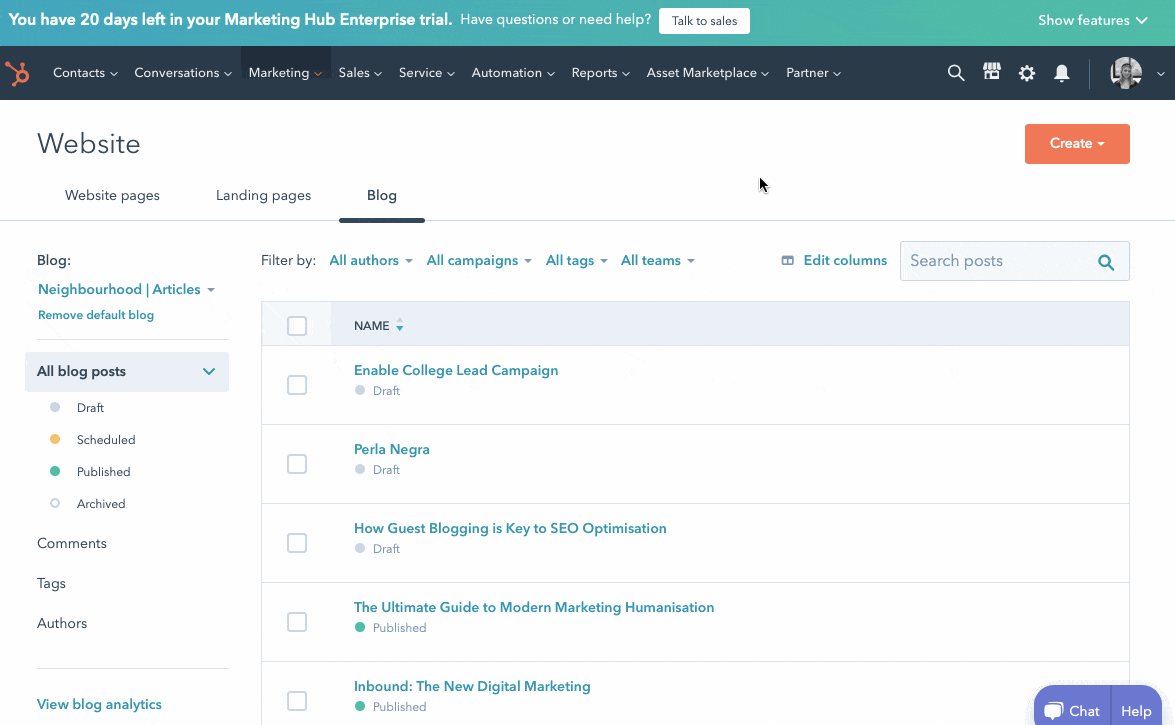 Choice
Recently, Hubspot relaunched its CMS hub with two new options; Professional CMS and Enterprise CMS. Hubspot CMS professional evolved version of their previous CMS with some extra tidbits, including themes, drag and drop editing, dynamic content, SEO tools and forms.
Enterprise CMS on the other hand, is the next level up from CMS Hub Professional. It comes with everything Professional CMS has, but with MORE extra features, like serverless functions, memberships, activity logs and brand domains. Overall, Enterprise CMS gives scaling organisations the opportunity to build compelling and dynamic marketing experiences.
So, that's everything you need to know friends! While every CMS is unique, there are some core features you should look out for and best practices you need to follow to wind up with the CMS you need. And our CMS of choice? The HubSpot CMS! The only platform where everything you need is in one place. We use it every single day and hey - we love it every single day, drop us a line to find out more about why you will too!