Twitter is a social networking, news, and microblogging platform that boasts 326 million active monthly users that pump out an estimated 500 million tweets per day. That's an insane number of tweets per person.
A tweet is a short message that can include links and media such as photos, videos or gifs which originally was restricted to 140 characters but has since been upgraded to 280 characters in 2018. Tweets can be informative knowledge bombs from industry leaders, jokes and puns from armchair comedians or absolute dribble and rubbish from an over-opinionated person who uses it to vent all their frustrations. They are a way to connect with people, vent, offer your opinion or share something you've found.
The team over at Edubloggers have created an in-depth info-graphic that breaks down the anatomy of a tweet below.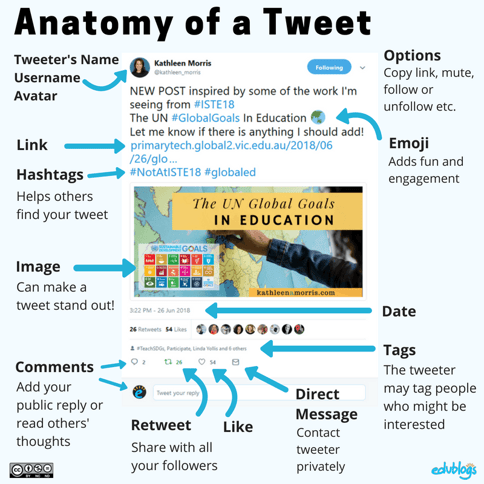 You can lurk in the shadows and just observe on Twitter by following brands, companies and people or you can be active by engaging in conversations with other users from around the globe. You don't have to be "friends" with a person to connect, the majority of profiles are public so you can publicly talk with anyone or private message. A general rule of thumb not only on twitter but in real life is don't be creepy or stalker-ish, otherwise you'll find yourself on someones blocked list.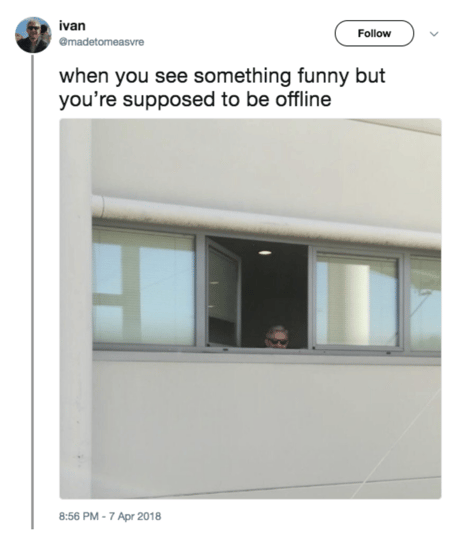 Before you jump right in and start advertising on Twitter we'd recommend first creating your own profile and get a bit of a lay of the land. If you don't understand what a tweet is, how hashtags work or how to properly communicate with people, your Twitter advertising campaign may struggle to see the results you're chasing.


Much like the other social media platforms Facebook and Instagram, to start a personal or business account you first create a profile, set up a bio, profile picture and find brands and people you are interested in.


It's important that if you're a business on any social media platform that you post regularly rather than once every 3 years and forgetting about that account. It's exactly like your website, keep content fresh and up to date or it could affect your business. People want brands they can trust and if they see your ad, click your page and you haven't posted or updated anything in quite some time it seems a little suss, plus what's the point of following you for updates if you never post any?


What's your objective?
To advertise on Twitter you need to first start out with a goal or objective for your campaign. Your objective should be assisting to reach your businesses SMART goals. Twitter has a number of options you can choose from to help you run a successful campaign including:
Tweet Engagements - Assists to maximise the engagement of your tweets with your target audience.
Promoted Videos Views - Got some fresh video content that needs to be seen? Get your videos seen across Twitter.
Awareness - Extend your ads reach and have your brand or Tweet seen by more people.
Website Clicks or Conversions - Want to increase website traffic or have a downloadable piece of content you want people to see?
In-Stream Video Views - Twitter will partner your video or ad with another brands premium content. It's a form of piggybacking your content on with higher performing content.
Followers - Looking to build your audience and following?
App Installs - You've just launched a new app and you need people to download it.
App Re-engagements - People downloaded your app but usage is down so now it's time to remind them your app is sitting on their phone.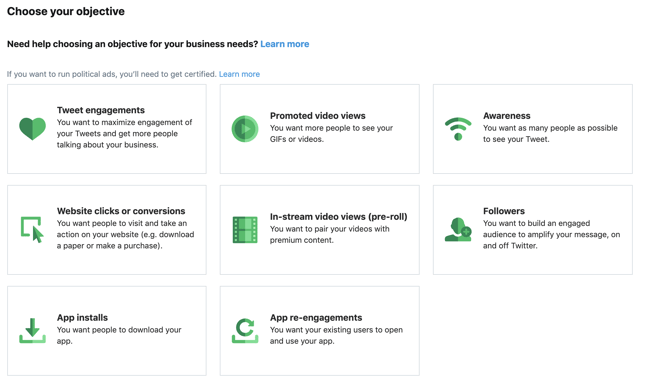 Once you know your objective things should be a little clearer now and the rest of the process simple.
Ad Groups - Test & Measure
When setting up any digital marketing campaign the key to success is by continually measuring, testing and adapting. Twitter's Ad Groups tool makes your life as a marketer significantly easier with the ability to run ads simultaneously targeting different audiences, with different content, different budgets all part of a central campaign. Using ad groups you're able to see which of your content performs better and relocate resources accordingly.


Targeting Your Audience
No marketing campaign is complete without audience targeting and for you to be able to do it, you need to know who you're speaking to and targeting. If you're aiming to increase the amount of 18 - 25 year olds, using mobile devices that live in Brisbane that follow and engage with you, then this is exactly who you want to target. Get specific, but not too specific.
Don't be too specific that it only reaches one person and at the same time don't be too broad and target the entire planet (unless that's exactly what you want, then uhhh go for it... I guess). Who do you expect to reach by targeting left handed 30 year olds who went to your high-school dance on the 25th of July 2004? That will only work if you're trying to find the one that got away... Great white buffalo...


Here are some of the types of demographic targeting you can focus on:
Gender
Age
Location
Language
Platform
Device & carrier
OS Version
Once you've nailed the demographics it's time to dig into their personality a little target their likes, dislikes, what they talk about, favourite movies etc.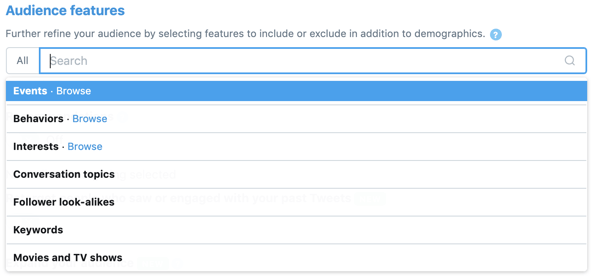 Once you've profiled your target audience it's time to choose which content they are going to see. Make sure it's quality, use your words wisely (with only 280 characters you have to get to the point) and make sure it will resonate with your audience. No point putting all this time, effort and money in if what you're promoting is rubbish.


How Much Does It Cost?
If you're new to the Twitter game, how are you meant to know how much to spend on Twitter advertising? Your marketing budget could be in the millions or it could be in the hundreds, both could be effective. For a bit of an idea what you should be spending to acquire customers, check out our blog on Customer Lifetime Value HERE.
If you're just starting out then we don't recommend blowing the budget on your first tweet. Start with just a small amount and test the waters, get an understanding of what works, more importantly what doesn't work and always look to improve your ads. Once you're confident in what you're doing then it's time to ramp it up!