In kicking off the project, we began by conducting three fast-tracked versions of our Hubspot onboarding workshops, to get the team set up in the system, without having to needlessly explain the elements of Hubspot that the team were already familiar with. As part of this, we began by setting up a basic sales pipeline and some foundational frameworks to allow for the project to hit the ground running once automations began.
In supporting SRI find their people, we utilised our expertise in Adwords and Facebook Ads to set up a tailored advertising strategy that would inspire change among their target audience. As previous advertising efforts merely constituted CandleFox campaigns, we did not have access to any historical data that would help inform the Paid advertising strategy. With the absence of this context, time needed to be invested into the strategy, design and content of the ads before setting them live, to do our due diligence in making sure they would perform a la market competitors. With the looming economic crisis threatening shut down, we knew that we couldn't delay results, while we set up the strategy for the ads.
To that end, we addressed this period of potential stagnation, by running a cold leads campaign for 1,000 old leads in the CRM. This sought to convert the lowest hanging fruit that we didn't have to work to find! In making the most of a bad situation, we capitalised on the growing need for essential workers as the COVID-19 crisis took hold, subsequently positioning these emails to urge leads to make a change, not only to their career prospects, but to the wellbeing of society collectively.
As the emails sparked conversion, we got to work on finessing the final element of our ads campaign; the landing page. We knew that the conversion power of the landing page would spell success or failure for the entire campaign, and therefore - needed to mirror the expert set up and copywriting of the ad. In doing this, we utilised best practice design by incorporating many psychological elements to ensure the landing page would not distract prospects away from the offer, and provide a clear path to conversion. With this set up in best policy fashion, we could then use it as a template for all future campaigns, to ensure that efficacy did not wane.
After employing the best tactics we had available to us as part of our marketing arsenal, we needed to turn our attention to the sales strategy - as without a systemised sales process, our efforts in generating leads would have been redundant.
In supporting SRI sell to their people, we moved into the following month seeking to extend on the work we had completed initially in the sale pipeline; only this time, we needed to optimise it through implementing automated sequencing and follow-up. By constructing this in our wire-framing software, Whimsical, we were able to visually map the students journey with SRI, and as a result, populate the various stages with the necessary actions needed to be taken by the sales team in order to close the deal more effectively.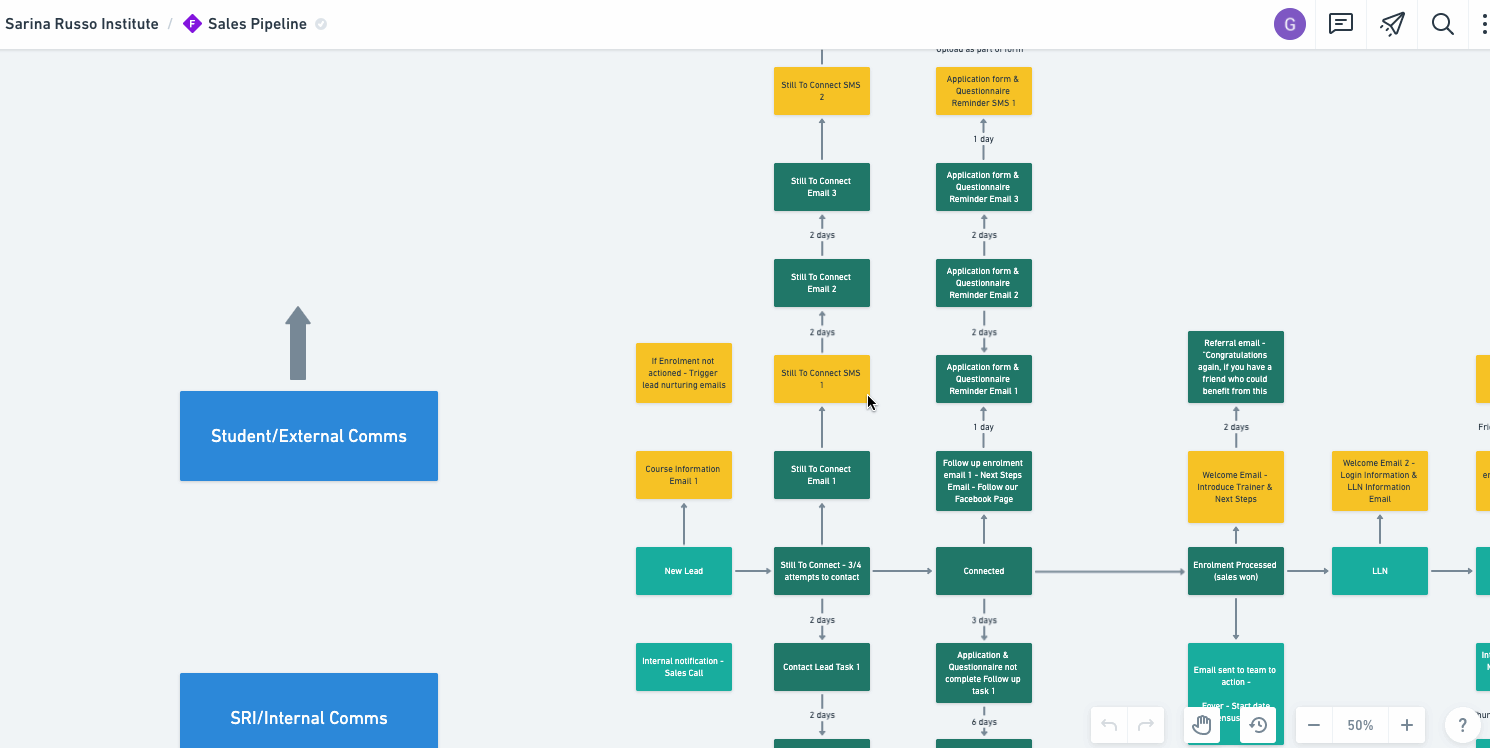 In providing a secondary opportunity for prospects to convert, we supported the newly automated sales pipeline with a chatbot / live chat strategy, that sought to answer visitors questions when and where they had them. In doing this, we personalised a 'qualify leads' chatbot according to the content on key web page to add a humanistic element to the bot and encourage greater likelihood of conversion. This form of chatbot collects lead information before handing off the conversation to a service rep in real time. This therefore meant that a support rep needn't have been online to be able to solve a prospects query, making the entire process more seamless from top to toe.
Working alongside the SRI team, we set up a comprehensive lead nurturing strategy that would keep fresh leads engaged as they moved through their decision - making process. This sequence worked alongside the recipients perceived behaviour or thought process at the time of receiving the email. Essentially, we used the emails to answer specific questions that might have been presenting as barriers to purchase from the leads perspective.