If you've thought of a new business idea in the shower or you're an established business looking to expand your digital footprint with an online store, chances are you've started researching eCommerce platforms and both Shopify and WooCommerce will be on your list.


When you move into eCommerce, you want to make sure you get it right from the start, so the building blocks you use from day one is important. None more important than the platform you build your online store through.

Both platforms have their strengths and chances are one of them will be perfect for what you require, you probably just want some questions answered right? Is Shopify or WooCommerce cheaper? Which platform has better designs? Which is more feature-rich? Which is easier to use? What are the pros and cons of Shopify vs WooCommerce?


These are all important questions and they are exactly what we plan on answering in this article to give you a clearcut comparison to get your business venture off the ground. While there's a lot of extra elements to think about when choose your eCommerce platform, we've outlined below some core features that we think are important for someone just starting out.



What is Shopify?
Shopify is a eCommerce platform that allows you to create a website and use their shopping cart solution in order to sell, ship and manage your products all in one place. It allows you to add new products, process orders and manage your store data with ease.
What is WooCommerce?
WooCommerce is best for those with an already existing WordPress website, who are looking to diversify their business with an online store. It is a WordPress plugin that is open source, which means anyone can use the platform or modify it to meet their needs.
How much does Shopify cost?
Shopify is a subscription based platform so if you know which level of plan you're on, you'll know what charges to expect each and every month which is a plus for budgeting. There's three levels of packages and pricing you can choose from, the basic Shopify at $29USD p/m, Shopify at $79USD p/m which is aimed at someone looking to grow their business, and finally there is Shopify advanced at $299USD p/m which is for larger scale eCommerce businesses looking to scale.
There's a whole range of features (which I'll mention shortly) that come with Shopify right out of the box even at the basic level. Here's just a few of the core features, the pricing structure and the card transaction fees direct from their website: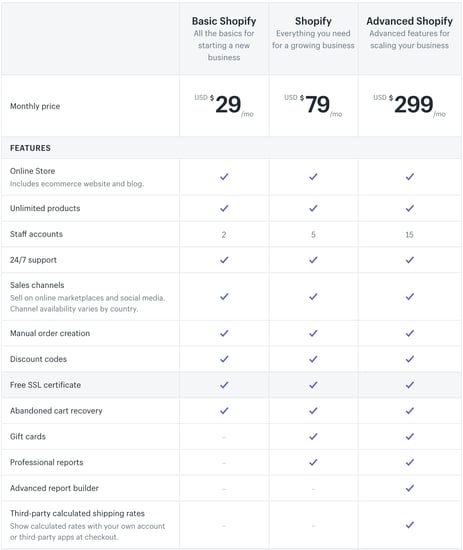 One of the biggest call outs from the suite of Shopify packages is the free SSL certificate, hosting and subdomain all included across the board. Regardless of the size of your business, whether you're starting out or you've been around for a little while, Shopify have pricing plans to match.
How much does WooCommerce cost?
WooCommerce is a free open source software plugin so technically it doesn't cost you anything, however there's a number of items that don't come with the plugin. There's additional costs such as hosting, cost of a theme (if you choose a paid one), domain name, SSL certificate and if there's any other extensions or features you need to add, it could cost you.
There is no definitive number for WooCommerce as it really depends on your requirements and what's not offered to you out of the box. While it may seem like the cheapest option being free, it requires more set up and you could run into unforeseen costs down the track.
WooCommerce technically is the cheaper option out of the two, however as I've mentioned, you could end up paying more as you add more extensions and require more features. With Shopify you at least know exactly what you're going to be hit with every single month which for a business just starting out is essential to stay afloat.
How does Shopify design?
Shopify makes it simple for anyone with no design experience to create a website that is not only functional, but looks professional and X. Shopify outsources their designs to a group of professional web designers who often add updated themes which are current and engaging.


There's between 8-10 free Shopify themes to choose from at any one time and they have 2-3 styles or variations to choose from. If none of the free themes take your fancy, there's always the option to spend a little with the paid options which range from $140-$180 and at time of writing, there was an ample 64 options, all with their own styles.


To avoid the risk of using similar themes as other Shopify users, customising your chosen design is essential! With no developer experience you can alter basic colours and styles, it's for the more significant changes that you'll required the help of a more experienced developer.
How does WooCommerce design?
WooCommerce is a plugin for WordPress which means it doesn't necessarily offer design traits of its own, however it does open the door to countless themes available to WordPress. In most, not every case, you'll be able to use any of the numerous WordPress themes and make it work alongside WooCommerce to deliver a complete website.


If design is particularly important to you, it's worthwhile starting with a WooCommerce theme and working backwards for your website. The WooCommerce website is actually a theme of theirs called "Storefront" which you can select yourself or use their range of child themes for Storefront. Most of the themes cost $39 a piece but there's the odd WooCommerce theme that costs up to $119 each.


While both are completely customisable, the variety of options available to you from WooCommerce and WordPress makes it the more superior platform. That's not to say the themes available on Shopify aren't high-quality and you wouldn't be able to find an option, there's just many more options available through Woo. At the end of the day, it will come down to your own design preference and how you wish to portray your brand.
How feature-rich is Shopify?
There is a whole range of apps which allow you to integrate and essentially do anything you could need your eCommerce store to do. This is a pretty significant list of the essential Shopify features they offer you right off the bat:
Unlimited products
Unlimited file storage
Discount codes
Blogging
Automatic fraud analysis
Embedded

Oberlo integration for drop-shipping
Manual order creation
Free SSL certificate
Mobile commerce optimisation
Editable HTML and CSS
Credit card payments
Multiple languages
Adjustable shipping rates and taxes
Customer profiles
SEO-friendly site structure
Individual product reviews
Facebook selling
Social media integrations
Physical and digital products in the store (e.g. downloadable products or physical products you have to ship)
Unlimited traffic to your store
Daily backups
Site stats and product reports
Advanced reports (on Shopify and Shopify Advanced plans)
Fully featured mobile app
Product importing via CSV files
Different product variations
Print orders
Gift cards (on Shopify and Shopify Advanced plans)
Abandoned cart recovery (on Shopify and Shopify Advanced plans)
To give you a bit of a comparison, some of these 'free' features offered with a Shopify subscription would cost you an additional $700-$900 on WooCommerce.
How feature-rich is WooCommerce?
As WooCommerce is a part of WordPress and is open source, developers around the globe create various extensions and plugins for you to add to your website. If you're tech-savy enough and can find the right plugins for your website, there isn't much you won't be able to do. Not everything is free, however you can still do enough through the free tools to get by. Here's a list of what WooCommerce offers:
Sell physical products or digital products (including software and apps)
Good for affiliate marketing
Unlimited number of products and product categories
Payments via PayPal and Stripe built-in (other gateways available will cost you extra)
Adjustable shipping rates and taxes
Stock level control
Mobile-friendly structure
Take complete control over your data
Works with your current WordPress theme
Literally hundreds of plugins (extensions) available (some free, others will cost you)
A free Facebook ad and Facebook stores extension
Again, which one you choose is completely down to your own personal preference, however out of the box, Shopify delivers more features and tools. Everything Shopify has on offer is designed entirely at making your online store function efficiently and make it as easy as possible to operate. While WooCommerce certainly is feature-rich, it requires a little more understanding to add new features and extensions.
Is Shopify easy to use?
I mentioned just before that Shopify is designed entirely to make your life easier and build an efficient, effective online store that's easy to use. As long as you've got basic computer skills and don't still use Windows 95', I think you're going to be okay. The most important factor is that you don't need any design or web development skills in order to set up a basic store. Your domain name is alread Everything from adding products, creating orders, discount codes and analytics is all easily accessible and intuitive for first time users. It's worth attempting to learn yourself how it all works but if it's just too hard, they have an extensive help centre which answers most, if not all questions.
Is WooCommerce easy to use?
Technically, once it is set up, yes... yes it is easy to use and most would argue just as easy as Shopify. If you've already got a WordPress website then Woo will be simple to set up, however without an existing website there is one hurdle you'll hit if you don't have much technology know-how. As it's a WordPress plugin, you not only need to set up WooCommerce but you'll need to purchase a domain, sign up for hosting, setup WordPress with a theme, then you can finally add the Woo plugin.
This is all before you even start adding products to your store or can actually set everything up. While this differs from the easy one button "sign up" required for Shopify, once you've got the above steps nailed Woo is just as intuitive and simple to operate. Both platforms are designed to make your life as easy as possible, they are purposefly designed for people with little to no experience in the eCommerce world.
If we overlook the setup for a moment it really is hard to differentiate both platforms, even their interfaces look and feel extremely similar. If you've got someone with the knowledge of WordPress and and development, you shouldn't have too many issues but for someone just starting out from scratch, then the obvious choice is Shopify.
Conclusion - so which is better?
Both platforms have their pros and cons when it comes to the key elements of prices, design, features and ease of use. It entirely comes down to your knowledge, tech skills and the size of your business. For someone with no or low levels of experience in technology or eCommerce, I'd recommend Shopify as the simplest and best option. For someone with an existing WordPress website with a solid understanding of extensions, plugins and basic internet hosting then WooCommerce can deliver you a quality eCommerce platform.


It's a matter of experience and personal choice to decide which one can get your next business off the ground. At Neighbourhood, we use Shopify regularly with a number of clients and if we personally were going to start a fresh business tomorrow we'd be going down the Shopify path. If you're keen to learn more about how to utilise Shopify for your new million dollar idea, hit the chat in the corner and connect with one of our team today.