With the foundation now complete, and the relationship between marketing and sales defined, we moved on to execution and commenced the all-important sales pipeline workshops.
In these sessions, we got together with the sales team leaders to uncover which performance metrics they rely upon most, and which elements of their role might be automated for maximum efficiency. We researched the roles of all AIF's staff to gain an understanding of how automation could be used in a larger sense, team-wide, and to ensure any benefits of sales automation were able to trickle down as far as possible within the organisation.
Exploring these opportunities for automation was only possible once we had been able to get a detailed understanding of the existing sales process. Each of the stages in use to this point, however vaguely worded, was broken down to determine exactly what it represented to each of the teams, and what the goals were for movement between stages.
We then utilised our wire-framing software, Whimsical, to reinvent this pipeline, working out what information had to be pushed where and when, and where we wanted leads and opportunities to be by the end of each stage.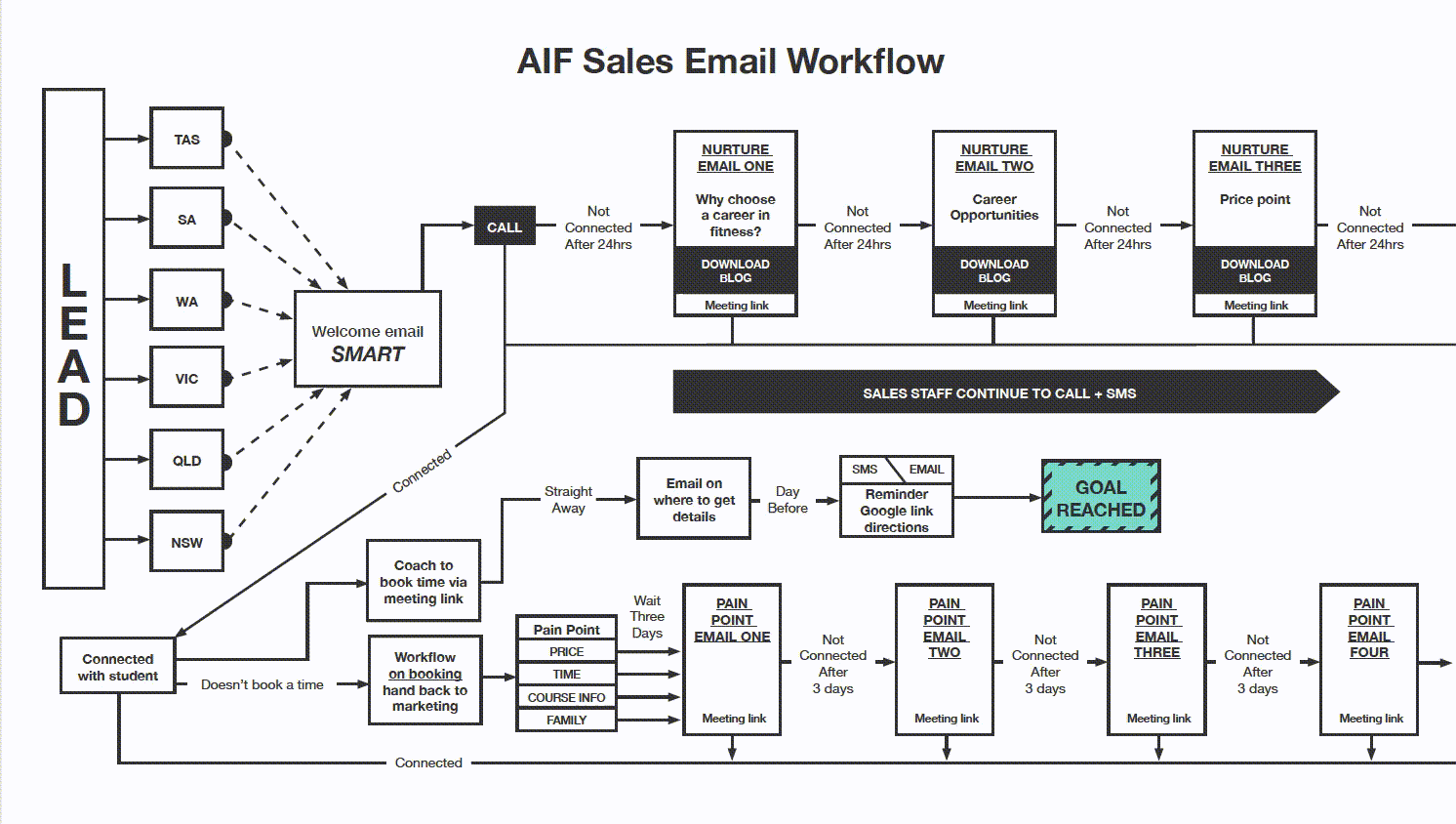 After the strategy had been given the green light, we set up the new pipeline in Hubspot, sustained and supported by a series of lead nurturing emails that would pull prospects through their buyer's journey faster, and limit the staffing hours dedicated to reach-out.
Next we implemented task automation in order to gain visibility into the sales team's progress on particular leads, reminding reps on follow-up status, and extending the ownership of lead status to the entire team.
We then looked to further enhance the contextual nature of the automation. We set up SMS reminders through integration with Message Media, sending the recipient a Google Maps link to their meeting a few hours prior, and we automated the display of sales meetings attendance rates to the sales rep, to foster an environment of continuous improvement and padding the process from lead to conversion.
With the new process firing on all cylinders, our attention turned to ensuring the sales leaders could recognise the difference the new process was making to overall results. Using our Databox software we set up dashboards for the sales data pertinent to each Australian state, together with a centralised board that detailed conversion metrics for all of AIF's lifecycle stages, amalgamated month-on-month. These were set up with an automated daily email to the sales manager for each region, providing them with a near real-time view of the daily state of play, and enabling them to strategise accordingly.