With sophisticated processes and automations planned and approved, we implemented 2 new pipelines within HubSpot backed by Zapier and Databox integrations that included a reporting 'wishlist' from the kick-off with SwitchDin. This was wrapped up by offering thorough training to the SwitchDin team so they could begin making the most of their HubSpot investment by giving their team visibility and consistency in deals.
1. Two New HubSpot Pipelines
During our exploratory phase with SwitchDin, it was noted that there was a varying level of HubSpot usage within the sales pipeline meaning every customer was being dealt with differently, lacking consistency in the customer journey.
The team were getting by with ad-hoc processes, leading us to create two new pipelines from scratch. One for larger ticket electricity providers on a direct business-to-business approach, with another for intermediary businesses - each having different levels of involvement required from staff. An example being an automated email to the Executive Sponsor or Technical Lead to review information for permission to prepare the bid for a deal based on an analysis of the opportunity - essential staff are notified when necessary, rather than spread thin across several stages.
An opportunity presented itself for us to automate the deal process through a Zapier and Google Drive integration in both pipelines, cutting admin time involved with collating essential deal information and allowing the sales team to spend more time on the documentation that mattered.
Once a new deal is created and the "Google Drive Automation" property is ticked, Zapier triggers a new deal folder which clones a Deal Zip File template featuring Google Sheet documents that are essential in developing their RFPs and proposals. This folder becomes the one-stop shop for a selected salesperson to keep track of what is yet to be completed to progress the client forward.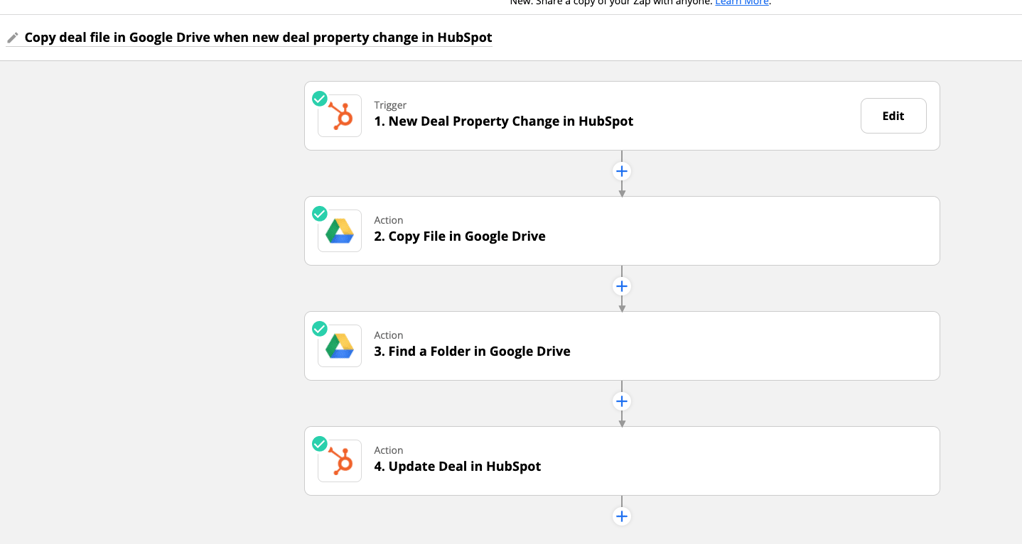 In both pipelines, each stage features an automated series of tasks for the deal owner which includes a checklist. This is where consistency meets efficiency with every team member now receiving the same requests needed from clients to qualify them into the WON stage.
2. Databox Reports
Lack of processes meant there was an inability to identify bottlenecks within the sales process and it was identified early that little to no data was being captured consistently in the sales process, which is where the Databox integration came into play. Executives now have unseen finite data, offering a holistic view of deals flowing in and out of SwitchDin. Establishing a sales, marketing, customer support and service dashboard integrated into HubSpot allowed SwitchDin to pivot through areas of required growth in their sales process, ultimately servicing customers more efficiently.
We first set up dummy dashboards with dummy data (as seen below) using the reporting wishlist provided in the kickoff, before gaining approval of the dashboards and moving into implementation.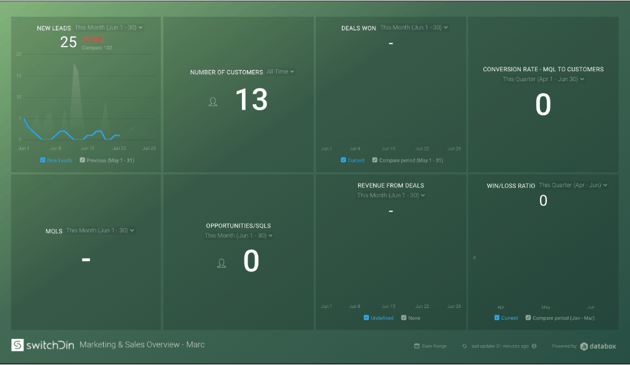 3. Training and Efficiencies Using HubSpot
With the fine-tuned vehicle pieced together, the final stage was equipping the SwitchDin team with the processes created to drive it home. We set-up 3 training sessions: 2 with the project lead for SwitchDin, which covered how to utilise HubSpot effectively and the tools designed for SwitchDin, enabling him with the knowledge to teach his team on the developed sales processes in case of new starters and to give him the ability to optimise the process in the future. Then, a final workshop for the sales team and some execs on the Sales Hub tools they could utilise to make their selling experience an efficient one.