With the eCommerce and Bakery pipelines set up and the WooCommerce integration firing on all cylinders, we set about lowering Sam's own admin burden through a Deal x Google Calendar Integration, raised customers' awareness of the progress of their orders through a Deal x Sakari Integration, and finally addressed the business performance reporting issue through a Deal x Databox Integration.
1. Decrease Manual Administration Time
During the exploratory phase, we discovered that in order to schedule tasks for the day, the Cakes & Sh!t team were spending the first few hours in the morning reviewing recent deals to ascertain the order date and manually check the order progression.
We saw a clear opportunity to use the Zapier platform to automatically populate calendar entries once a new order had been placed through WooCommerce and the 'customer pick up date' property was specified. The integration essentially talks to itself, reducing overall scheduling, planning and prepping time – and allowing the team to hit the tools as soon as possible!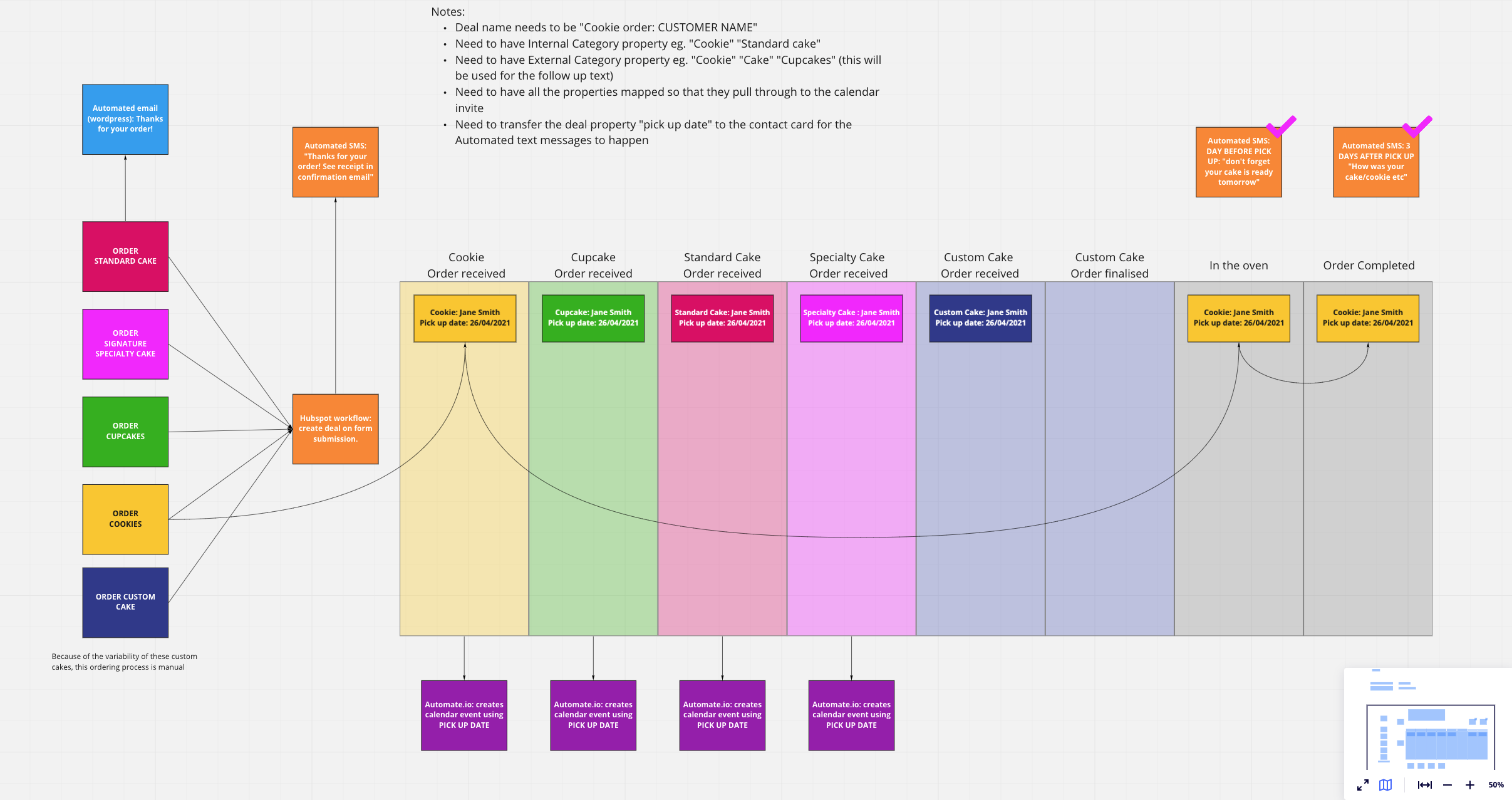 2. Provide Order Updates
Customers love to be updated on their queue progression, so we integrated Hubspot with Sakari to send customers automatic SMS updates as deal cards progress through the 'Bakery Pipeline'. These updates alert customers after initial purchase, advise when their order had made it to the oven, and finally when the magic was complete and the order was ready for pickup. We took the opportunity to use these updates as a secondary marketing touchpoint, incorporating as much personality as possible into the messaging, in an attempt to keep the brand top-of-mind after purchase and spur future re-buy.
3. Capacity Planning
Recognising the bottlenecks the team at Cakes & Sh!t was experiencing in monitoring performance and gauging capacity day-to-day, we extended Databox as a holistic, all-in-one platform solution to provide an eagle-eye view of orders currently in the pipeline and so allow the team to plan time accordingly. Integrating the platform with Hubspot allowed the team to track capacity in real-time, in turn allowing them to establish meaningful KPIs to work towards and start hitting their continuous improvement goals.