Before the complete overhaul, our initial approach was to step into the shoes of potential pilots, by way of learning how to best attract, engage and delight them. A kick-off meeting allowed Neighbourhood to review Aeropower's buyer personas and get clear on how we could best position the service. We knew that once we had identified the 'who', the resulting content and paid ads strategy we'd create would fall into place.
This know-how, coupled with an extensive review of competitor websites allowed us to start creating content that would be a true reflection of the brand, and position Aeropower as a thought leader in the Aviation RTO Industry.
As we rewrote how Aeropower presented themselves in their content, we then turned our attention to the user experience on-site. As Aeropower are totally unique in their space, with impeccable training capability as well as the biggest helicopter power line cleaning company in the country, we had to create a remarkable user experience that continued this narrative.
We used Miro to wireframe the customer journey from the Home page through to the Contact page, finding opportunities to integrate content marketing to speed up the contact-to-customer rate.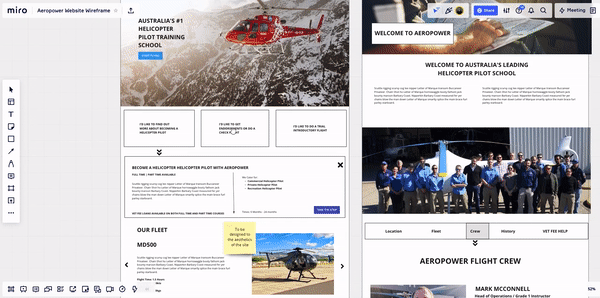 Achieving intuitive website design and UX was the initial approach, now came the training of how to nurture those leads effectively for conversion. Neighbourhood developed a thorough sales pipeline that involved internal and external communications to trigger tasks, reminders and automated emails to streamline a previously blurred structure.
With a clear sales pipeline implemented, admin time significantly reduced, even as we reinforced the consistent quality of Aeropower's processes. Ensuring everyone was on the same page, Sales and Marketing Pro onboarding training sessions were introduced to get Aeropowers sales team well-equipped with how to use the software. Pulling in leads was one goal, but knowing how to nurture and empower these leads was another.